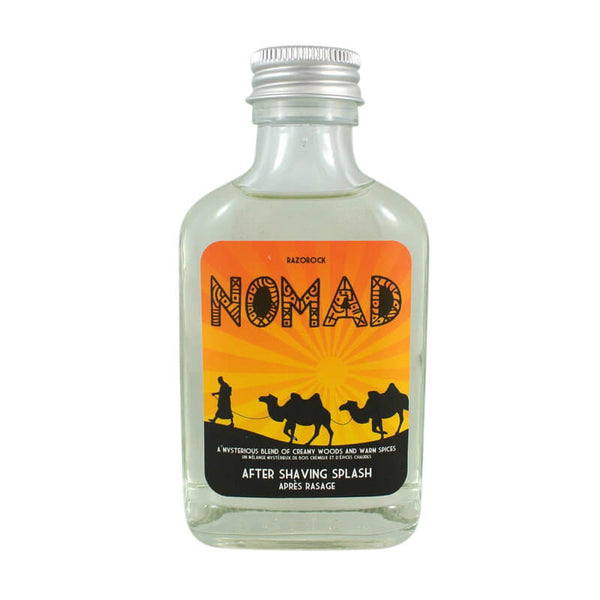 RazoRock NOMAD After Shaving Splash
I'm one of those rare birds that actually likes going to the mall with my wife. Why you may ask? Because I get to explore the latest and greatest at the fragrance counters! A lot of the inspiration for RazoRock products comes from fragrances I can't afford to purchase; surely I can't be the only one around here WITHOUT a limitless credit card or bank account?! This brings us to NOMAD. What is it? 
One day, while strolling around a well air conditioned mall in Tampa, Florida, I stumbled into an Art of Shaving store. Low and behold, they were recently stocked with a bunch of Penhaligons fragrances and testers! Spray, sniff, spray, sniff... there were so many winners, but one scent stood out from the crowd... ZIZONIA! I was so stoked that I asked for a bunch of samples and brought them back to my business partner to sniff. Guess what? I wasn't the only one in love with this scent.
Fast forward a few years and with the aid of an expert perfumer in France, we have created a RazoRock version of Zizonia. It wasn't cheap and it wasn't fast but I hope you enjoy it as much as we do... and, it won't leave you feeling guilty.
Nomad After Shaving Splash pairs perfectly with our Nomad shaving cream soap, for the perfect 1-2 punch, be sure to pick up the set.
Top notes: Orange blossom, bergamot, coriander.
Heart: Lavender, nutmeg, cardamom, ginger, geranium, black pepper, cumin,
Base: Patchouli, amber, ceder, vetiver, sandalwood. 
Artisan Made in Italy
Scent: A mysterious blend of creamy woods and warm spices.
Size: 100 ml (3.4 fl.oz)
Ingredients: Alcohol Denat, Aqua (Water/Eau), Parfum (Fragrance), Polysorbate 20, PEG-40 Hydrogenated Castor Oil, Menthol, Dimethicolne Copolyol, Tetrasodium EDTA, Hexyl Cinnamal, Linalool, Citronellol, Limonene.
RazoRock