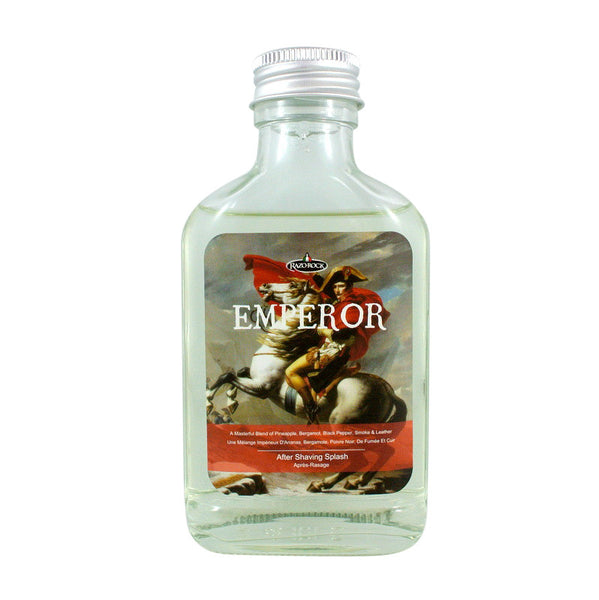 RazoRock Emperor After Shaving Splash
RazoRock Emperor After Shaving Splash (See note below for 2021)
If I had to pick one desert island perfume to wear for the rest of my days, I would know the answer right way, CREED AVENTUS! A true masculine perfume that is adored by both sexes. It may be purely psychological but I always feel stronger and more confident when I'm wearing this scent! 

RazoRock Emperor is inspired by the great CREED AVENTUS. We choose one of the best perfume houses in France to blend us a scent that is very close to the original and made a wonderful shaving cream soap and matching after shave splash. The best part is, you will experience all the glory of Aventus without the major hurt to your pocket! Enjoy, my friends!
Scent: A masterful blend of Pineapple, Bergamot, Black Pepper, Smoke & Leather
Ingredients: Alcohol Denat, Aqua (Water/Eau), Parfum(Fragrance), Polysorbate 20, Peg-40 Hydrogenated Castor Oil, Menthol, Dimethicone Copolyol, Tetrasodium EDTA, Geraniol, Citral, Limonene, Linalool.
Size: 100 ml (3.4 fl.oz)
Format: Glass Flask Bottle
Artisan made in Italy
***NOTE: Some of the Allergens used in the Fragrance oil for this scent have been changed due to the new regulations in the European Union as of 2021 - As a result, the fragrance oils have been reformulated in 2021 and new batches for 2021 and later may be slightly different from previous batches.***
RazoRock