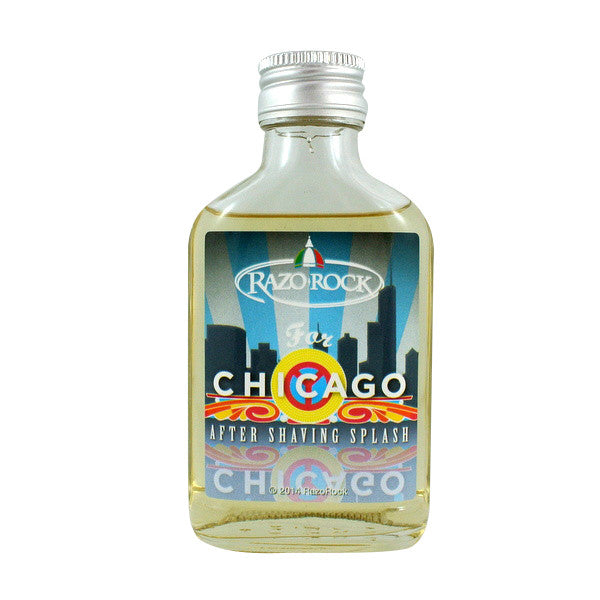 RazoRock For Chicago After Shaving Splash
RazoRock For Chicago After Shaving Splash
In the fall of 2012, we were invited to a wet shaving event in Chicago and it was my first time I had ever visited this great American city.  Chicago impressed me in many ways… The architecture, the food, the boulevards and the way the waters of Lake Michigan flows right into the city through the Chicago river.  But, what really grabbed my attention was the heart and soul of the people I met.  If you've visited Chicago, I don't have to tell you how passionate and colorful the people of this city are; if you don't believe me, just watch a Ray Pope shaving video!  The people are awesome!
Okay, so why make a "For Chicago" shaving aftershave?  Well, for about a year and a half we had a relationship with a store in Chicago that sold our RazoRock products and during that period RazoRock products were used and enjoyed by many wet shavers in the city.  I exchanged many an email with our Chicago clients and their passion was equally strong in electronic form, as it was when I visited the city.  Unfortunately, our relationship with our Chicago stockist soured because of differing values/opinions on business and eventually was terminated.  Thankfully, we live in 'the Internet Age' and most of these clients starting coming directly to us to buy their RazoRock products.  This aftershave splash was created to complement the shaving soap and to say THANK YOU to the passionate and loyal people of Chicago that continue to support us, even though buying the product wasn't as 'local' as before.
Ingredients: Alcohol Denat, Aqua (Water/Eau), Parfum(Fragrance), Polysorbate 20, Peg-40 Hydrogenated Castor Oil, Menthol, Dimethicone Copolyol, Tetrasodium EDTA, Coumarin, Benzyl Salicylate.
Size: 100ml (3.4 fl.oz) glass bottle comes equipped with a convenient flow restrictor insert, enabling easy application of the perfect amount of Aftershave Splash each and every time.
Scent: The best way to describe For Chicago's scent is masculine floral. It has a clean mandarin/citrus top note with some 'white floral' (jasmine/gardenia) and amber mid notes. There is a small amount of wood, leather, and powderiness to the dry down. 
Artisan Hand Made in Italy
RazoRock