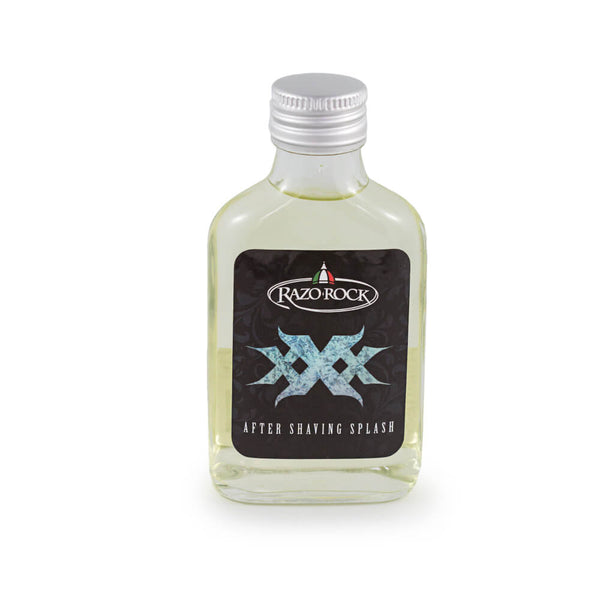 RazoRock XXX FRESCO After Shaving Splash
RazoRock XXX FRESCO After Shaving Splash
It's finally here!  XXX FRESCO shares the same great scent as our bestselling XXX with a menthol kick achieved with the addition of Extra Menthol which is not overpowering but adds to the freshness after a great shave.  RazoRock XXX After Shaving Splash is inspired by a legendary colonia fragrance from Parma, Italy, that has been worn for decades by royalty, famous actors, celebrities and leaders of the business world.  The scent begins with sharp and pungent notes of Sicilian citrus and verbena but quickly dries down to subtle clean notes of lavender, rosemary, vetiver and talc.  This is definitely a powerful citrus scent and no lightweight slouch.  RazoRock has done what RazoRock does best, we are offering you a high quality and luxurious after shaving splash at a price that any man can afford, no celebrity or aristocrat status required! 
Scent Olfactory Pyramid:
Top Notes: Bergamot, Orange, Lemon, Orange Blossom
Heart Notes: Lilac, Lavender, Rose, Basil
Base Notes: Hay, Tonka Bean, Patchouli, Musk, Sandalwood, Oakmoss 
Ingredients: Alcohol Denat, Aqua (Water/Eau), Parfum(Fragrance), Polysorbate 20, Peg-40 Hydrogenated Castor Oil, Menthol, Dimethicone Copolyol, Tetrasodium EDTA, Amylcinnamic Aldheyde, Citral, Benzyl Alcohol, Limonene, Linalool, Coumarin, Eugenol, Hydroxycitronellal, Geraniol, Isoeugenol, A-Isomethylionone, Oakmoss (Evernia Prunasti).
Size: 100ml (3.4 fl.oz) glass bottle comes equipped with a convenient flow restrictor insert, enabling easy application of the perfect amount of Aftershave Splash each and every time.
Artisan Hand Made in Italy
RazoRock