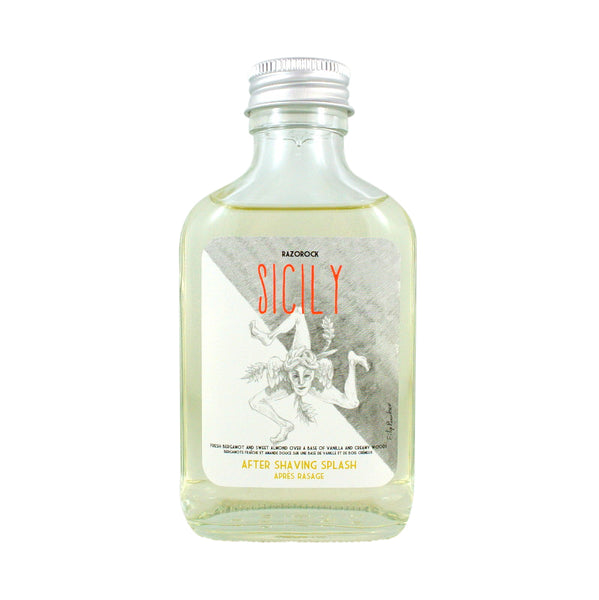 RazoRock SICILY After Shaving Splash
A truly magical island in the Mediterranean sea, Sicily gets far less praise than it deserves, mainly because it's not a common tourist hot spot like other regions of Italy. I assure you though, once you visit Sicily, you will want to go back as often as you can! We have so many Sicilian family and friends that a SICILY shaving soap and after shave splash was an absolute must, so we studied all our favorite Sicilian aromas and combined them into a harmonic blend that I believe captures the essence of the island. Sicilian citrus fruits that grow everywhere... sweet almond that is so often found in a morning granita or biscuit... that hint of vanilla in a freshly made cannoli and fragrant amber and woods that are so common in a warm Sicilian breeze.  
In case you are wondering about the label... The three legged Medusa is called "trinacria". The three bent legs represent the three capes of Sicily and the Medusa is symbolic of the fertility of the land in Sicily. It's the official symbol of Sicily and can be found on their flag and coat of arms.
Artisan Made in Italy
Scent: Fresh bergamot and sweet almonds over a base of vanilla and creamy woods
Size: 100 ml (3.4 fl.oz)
Ingredients: Alcohol Denat, Aqua (Water/Eau), Parfum (Fragrance), Polysorbate 20, PEG-40 Hydrogenated Castor Oil, Menthol, Dimethicolne Copolyol, Tetrasodium EDTA, Linalool.
RazoRock