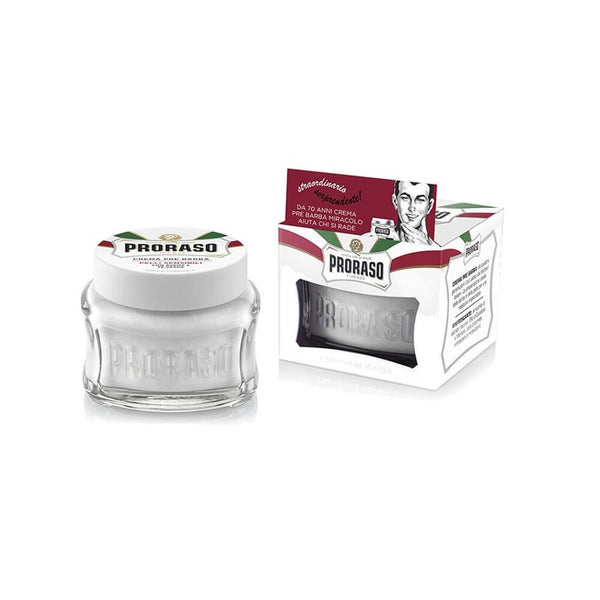 (White Jar) Proraso Pre & Post Cream - Green Tea and Oat - For Sensitive Skin
Proraso Pre & Post Cream - Green Tea and Oat - For Sensitive Skin - NEW JAR
The history of Proraso products dates back a long way. In 1908, Ludovico Martelli from Florence, Italy founded a cosmetics company under his own name. Then in 1948, his son Piero joined the company and helped launch the Proraso "crema miracolosa" to the Italian public. This eucalyptus oil based "miracle cream" could be used both before shaving to soften and prepare the beard, or after shaving to heal and calm irritation. Millions of "vasi" (glass jars) have been sold to three generations of satisfied Italian men and although many people know Proraso for their wonderful Shaving creams, Aftershave lotions and balms, it was the Pre & Post Cream that catapulted the company to the immense success they enjoy today. The Proraso Pre & Post formula will offer your skin a wonderful cooling sensation but more importantly it will make your shave more enjoyable by providing lubrication and cushion that prevents cuts and helps to achieve that "baby butt" smooth shave. Highly recommended!
Size: 100ml in a glass jar.
Made in Florence, Italy.
Note: This is Italian product sourced from Italy so the packaging may differ from the Proraso typically found in North America.
Proraso