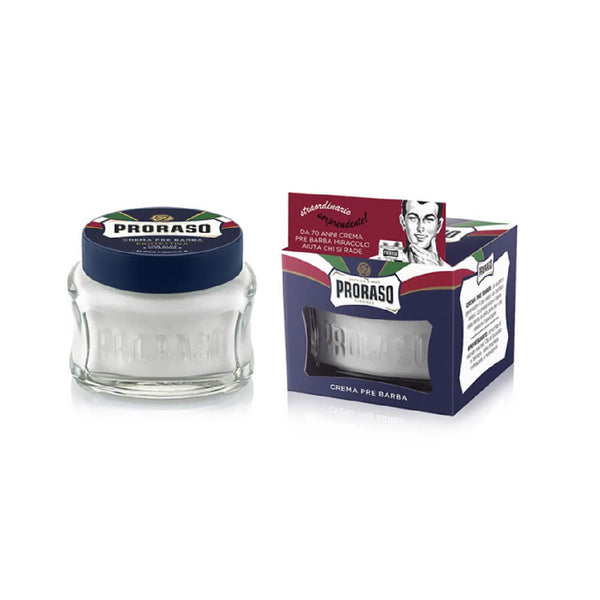 (Blue Jar) Proraso Pre & Post Cream - Aloe & Vitamin E
Proraso Pre Shave Cream - Aloe & Vitamin E - NEW SUPER FORMULA
***New Packaging-See photo***
Proraso BLUE Pre Shave is ideal for sensitive and easily irritated skin, with aloe vera and vitamin E. It helps prevent redness and leaves the skin feeling soft after a shave.  The Proraso NEW SUPER formula is now free of parabens, silicone, and mineral oil and is an upgraded product made with natural ingredients.

The history of Proraso products dates back a long way. In 1908, Ludovico Martelli from Florence, Italy founded a cosmetics company under his own name. Then in 1948, his son Piero joined the company and helped launch the Proraso "crema miracolosa" to the Italian public.  This is their new version of the pre shave cream specifically formulated for men with tough beard.  It's a super emollient formula with the extract of sandalwood and shea butter, it will prepare and soften even the more thick and dense beard
How to use it: Prepare your face and beard but first washing with a great pre shave soap, I recommend Pre shave soap by RazoRock.  Then, in circular motions, rub a generous amount of Proraso pre shave cream into your beard and let it stand for 60-90 second, this will soften and prepare.  After 60-90 seconds have passed I recommend lathering on a great Italian Shaving soap with a shaving brush. 
Scent: Aloe & Vitamin E
Size: 100ml in a glass jar.
Made in Florence, Italy.
Proraso