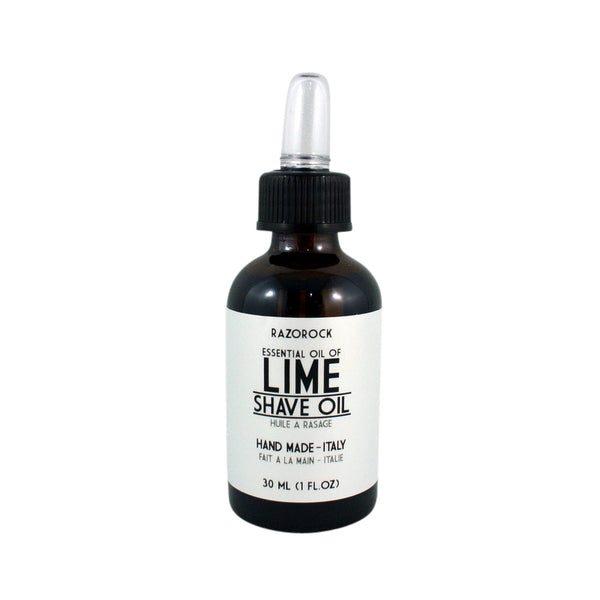 RazoRock Essential Oil Of Lime Shave Oil
Our SHAVE OIL can be used as both a pre shave oil and a stand-alone shaving oil. Some gents even use it as a beard oil.
I'm going to make this description direct and to-the-point!  Why do you want to buy RazoRock's shaving oil versus the shaving oil of the competition?
1) Look at our ingredient list! Only high quality ingredients used and formulated to create a very protective layer between the blade and your skin.  No filler ingredient here, folks!
2) Price! Compare the price, to the price of similar quality shaving oils in the marketplace, most are double to triple our price.
3) Our oil is loaded with Essential oil of Lime.  Why you ask? Because it smells great, but more importantly because it breaks down the trapped dirt and oil on your hair and face (also helps with clogged pores), allowing the razor to glide smooth and allowing the beard to be hydrated thoroughly!
4) Packaging! High quality, perfect for carry-on luggage! The Italian glass bottle come with a dropper for perfect dispensing, making sure you don't waste any product.
5) Our oil works perfect for a pre-shave solution and it works perfectly under your favorite shaving cream or soap, but better still, the quality is so high that it can be used alone, as a solo shaving lubricant!
Ingredients: Sweet Almond Oil, Jojoba Oil, Hemp Seed Oil, Essential Oil of Lime.
HAND MADE in ITALY
Size: 30 ml
Scent: Oil of lime
How to use: Use the dropper and dispense a dime sized amount into your palm. Rub your palms together to heat the oil up. Rub thoroughly into your stubble. 
RazoRock