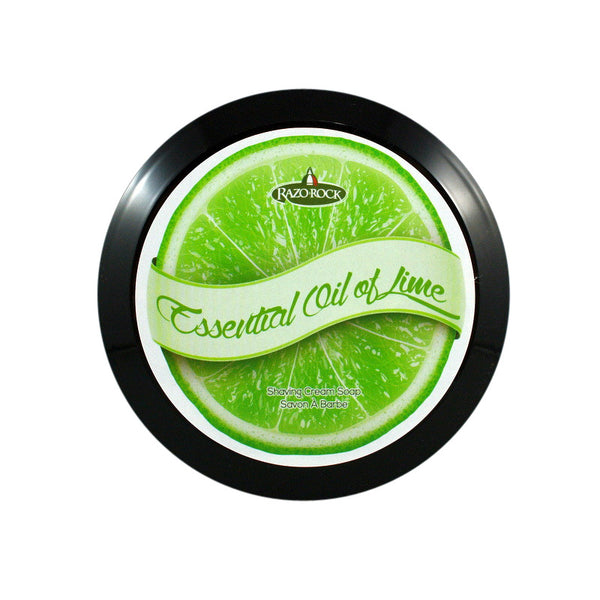 RazoRock Essential Oil Of Lime Italian Shaving Soap
***RazoRock Essential Oil Of Lime now uses are RazoRock Super Formula which includes Shea Butter, Argan Oil, Aloe Vera and Lanolin, for unmatched post-shave and razor glide!***
RazoRock Essential Oil Of Lime Italian Shaving Soap
*Essential Oil of Lime now uses are RazoRock Super Formula which includes Shea Butter, Argan Oil, Aloe Vera and Lanolin, for unmatched post-shave and razor glide!
One of our all-time best sellers in the RazoRock line, this fresh lime scent is sure to please all citrus lovers. Whipping up a lather is quick and easy, just load your favorite shaving brush by wetting it and swirling directly on top of the soap, then you can make the lather directly on your face in a shaving bowl.
SCENTED WITH ESSENTIAL OIL
Artisan Made
Contains ARGAN OIL
Scent: Essential Oil of Lime 
Ingredients: Aqua(Water/Eau), Stearic Acid, Cocos Nucifera(Coconut) Oil, Potassium Hydroxide, Sodium Hydroxide, Hydrogenated Lanolin, Butyrospermum Parkii (Shea)Butter, Myristic Acid, Citrus Aurantifolia(Lime)Oil, Argania Spinosa (Argan)Oil, Aloe Barbadensis Extract(Aloe), Limonene, Citral, Geraniol, Linalool.
Artisan made by hand in Italy
Size: 150ml (5 fl.oz.)
RazoRock