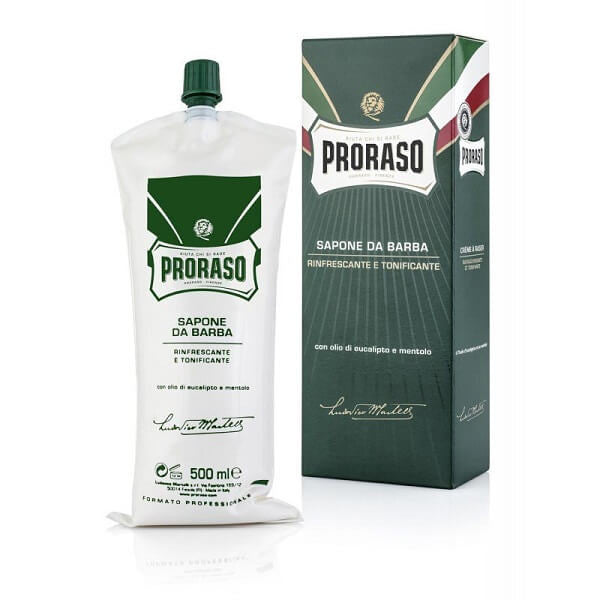 (Big Barber Tube) Proraso Shave Cream Menthol & Eucalyptus 500ml Tube
Proraso Shave Cream Menthol & Eucalyptus 500ml Tube

Even if you don't know the history behind Proraso Shaving Cream, the minute you pull the old-school green metal tube from the mate paper box, you will be instantly transported to a time when "The Barbershop" was a place for men to congregate and "shoot the breeze."

Ludovico Martelli and his son Piero started the Proraso brand in 1948 in Florence, Italy, and for the past six decades Proraso Shaving Cream has been the lubricant of choice for millions of Italian Gentlemen and thousands of Italian Master Barbers.  How can all these Italian men be wrong?

Although Proraso Shaving Cream wasn't the first product introduced under the legendary Proraso brand (the first was the Pre & Post cream), Proraso Shaving Cream in the green metal tube is their most popular product; according to my sources, which I believe to be reliable, Proraso Shaving Cream is also the best-selling shaving cream in Italy.

I believe the reason for Proraso's success lies in the formula.  A glycerin based cream, enhanced with oils of coconut, eucalyptus and menthol, Proraso Shaving Cream instantly provides an invigorating cooling sensation that both soothes and protects your skin and will really "wake you up" in the morning.  

Proraso Shaving Cream is a versatile formula that can either be used with a classic shaving brush or can simply be applied with your finger-tips.  From my investigation, Italianbarber.com has the best price on the internet for Proraso Shaving cream so you owe it to yourself to give it a try.  Based on the quantity we sell, Proraso Shaving cream is just as loved in North America as it is in Italy.  Very highly recommended!

Scent: Up-front eucalyptus/menthol.

Size: 500ml tube - NEW FORMULA
Made in Florence, Italy.
Note: This is Italian product sourced from Italy so the packaging may differ from the Proraso typically found in North America.
Proraso