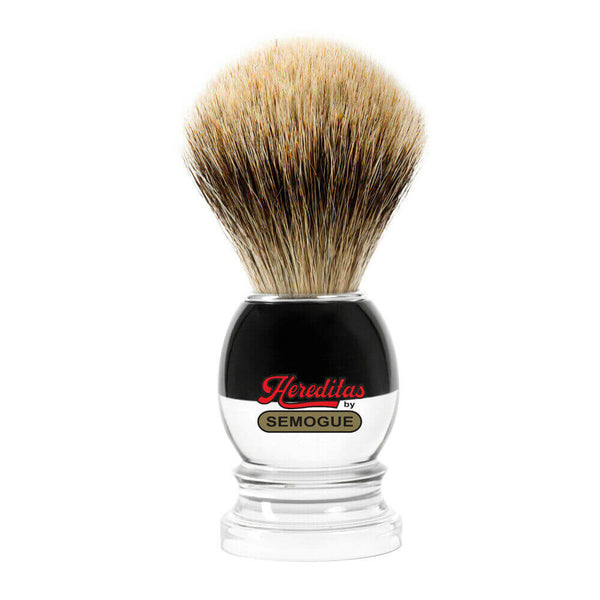 Semogue 2040 HD Silvertip Shaving Brush
Semogue 2040 HD (High Density) Silvertip Shaving Brush
Semogue 2040HD shaving brush features an elegant two-tone acrylic handle, and is filled with high-density pure silvertip; the longest, most elastic, lusciously soft-tipped, most rare and expensive badger hair. All Semogue brushes feature a metal ring as a hallmark of uncompromising quality; the ring is there as an added measure to hold the bristles in place snugly. Black and clear acrylic. The handle carries the unmistakable 'Excelsior' badge and is topped with a 'silver' collar, which holds the densely filled, sought after Semogue Silvertip Badger loft. The HD designates High Density and signifies that this loft is of an ultra high density compared to the non-HD model. A beautiful looking brush with excellent performance. Hand Made in Portugal.

Semogue is a family operated business with a tradition of brush-making passed on from father to son for generations. The brush master is at the head of the business and ensures that the highest standards are upheld in the brush-making process. 
Knot diameter: 23 mm 
Bristle loft: 58 mm 
Handle height: 54 mm 
Made in Portugal
Note: Natural animal bristle brushes will have a slight odor when new; this odor will disappear after after a dozen or so uses. Also, boar brushes need about 15-20 uses to 'break-in', you will notice a huge improvement after a month of daily use.
Semogue