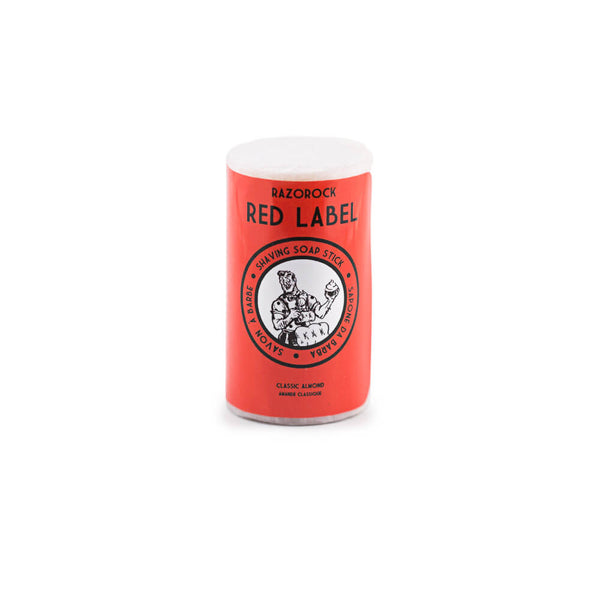 RazoRock Shaving Soap Stick - Red Label
RazoRock Shaving Soap Stick - Red Label
Shaving soap sticks have been around traditional wet shaving for decades but if you are new to shaving with a brush and soap you may be wondering what this product is. A shaving stick is really easy to use; you prepare your beard by washing it with warm water and if you desire, applying a little bit of pre shave, then you wet the stick with some hot water and rub it all over your beard stubble in circular motions. When you have a nice thin layer of soap covering your stubble, you then begin creating a lather right on your face with a damp shaving brush. Make sure to spend a few minutes working in the lather and add droplets of water to the brush hairs/fibers if needed. If you have a thinner beard on your cheeks, you may want to rub more soap into the chin area of your beard, for most men, the chin stubble is the thickest and easiest area to apply soap from a stick. Remember that creating lather with a shaving soap stick is a learned art, give it a good 15-20 shaves before determining if you like it or not, you probably won't get the best of lathers the first few attempts. Patience will be rewarded!
Scent: Classic Italian Almond
Size: 75 grams (2.6 oz)
Artisan made in Italy.
Triple milled recipe.
Ingredients: Potassium Palmate, Sodium Palmate, Potassium Stearate, Potassium Palm Kernelate, Sodium Stearate, Potassium Cocoate, Sodium Palm Kernelate, Glycerin, Aqua, Parfum (Fragrance), Palm Kernel Acid, Glyceryl Caprylate Caprate, Butyrospermum Parkii Butter, Lanolin, Pentasodium Pentatate, Tetrasodium Etidronate.
RazoRock