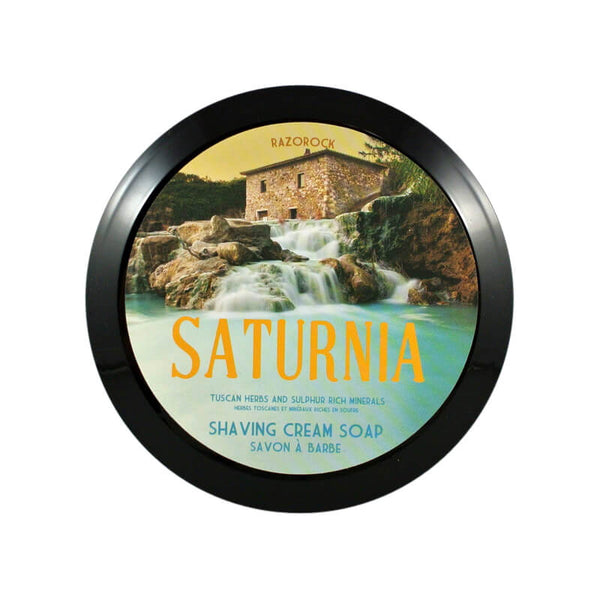 RazoRock SATURNIA Shaving Cream Soap
SATURNIA uses a special formula unique to this soap enriched with Shea Butter, Virgin Olive Oil, and Sulphur minerals for the ultimate post shave feel.
SATURNIA is a soap inspired by one of my favorite places on earth. A spa town located in south-west Tuscany, that has been inhabited since ancient times. One legend, according to the Etruscans and the Romans, was that the Terme di Saturia (Thermal Springs) was formed by lightning bolts throw by Jupiter. During a violent quarrel between the two mythological deities, the bolts thrown towards Saturn had missed, causing the formations known as modern day Saturnia.
The sulphurous spring water, at a constant temperature of 37.5 °C, are well known for their therapeutic properties, offering relaxation and well being through immersion. The main thermal waterfalls are the Mill Falls, located at an old mill as well as the Waterfalls of Gorello.
The yield of the source is about 800 liters per second, which guarantees an optimal replacement of water. The chemical make-up is sulfur, carbon, sulfate, bicarbonate-alkaline, earth, with the presence of hydrogen sulfide gas and carbon dioxide. The minerals dissolved in water amount to 2.79 grams per liter.
We used Tuscan herbs, common to the Saturnia area for the scent inspiration. The dominant component to the soap scent is that of sulphur minerals, which if you close your eyes, will make you feel like you are bathing in the famous Gorello waterfall. We are so happy with this soap we hope you enjoy it just as much as we do!
RazoRock shaving cream soaps are best used with a traditional shaving brush; if you are new to wet shaving, be sure to check out our RazoRock Plissoft brushes, they offer incredible value and performance.
Artisan Made in Italy
Scent: Tuscan herbs and sulphur rich minerals
Size: 150 ml (5 fl.oz)
Ingredients: Stearic Acid, Aqua (Water/Eau), Cocos Nucifera(Coconut) Oil, Potassium Hydroxide,Sodium Hydroxide, Olea Europea Oil(Olive Oil), Butyrospermum Parkii (Shea)Butter, Fragrance(Parfum), Sulfur, Benzyl Salicylate, Butylphenyl Methylpropional, Limonene, Linalool.
RazoRock