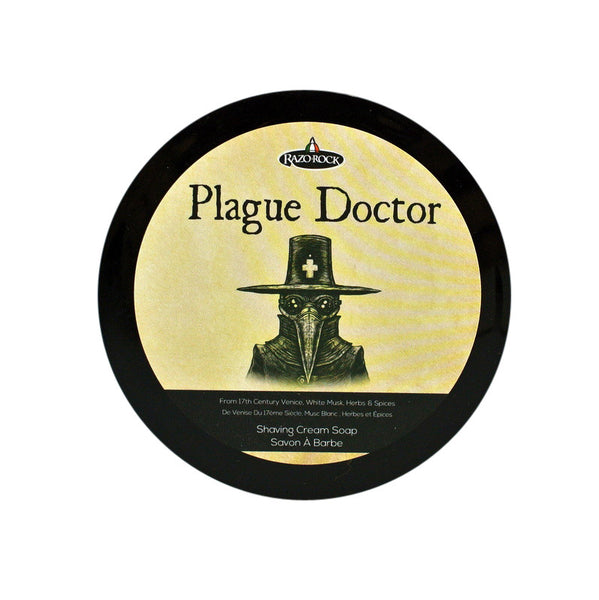 RazoRock Plague Doctor Shaving Cream Soap
RazoRock Plague Doctor Shaving Cream Soap
*Plague Doctor now uses are RazoRock Super Formula which includes Shea Butter, Argan Oil, Aloe Vera and Lanolin, for unmatched post-shave and razor glide!
In 17th century Venice, Plague doctors wore a beaked mask filled with sweet smells such as dried flowers, herbs and spices.  They believed the plague was spread by a noxious form of bad air and that their special fragrant blend would protect them.  On a recent trip to Italy, we were given "the recipe" which was supposedly used by these Plague doctors.  We can't confirm that it'll safeguard you from any future plagues but it sure smells divine.  We have recreated the Plague doctor's fragrance and now offer it in our Italian shaving soap and after shaving splash.
Size: 150ml (5 oz)
Scent: From 17th century Venice, white musk, herbs & spices
Ingredients: Stearic Acid, Water(Eau), Cocos Nucifera (Coconut) Oil, Potassium, Hydroxide, Sodium Hydroxide, Hydrogenated Lanolin, Butyrospermum Parkii (Shea)Butter Fragrance(Parfum). 
Artisan Made in Italy
Scent Olfactory Pyramid:
Top Notes: Peony
Heart Notes: Musk
Base Notes: Vetiver, White Cedar, Patchouli 
RazoRock