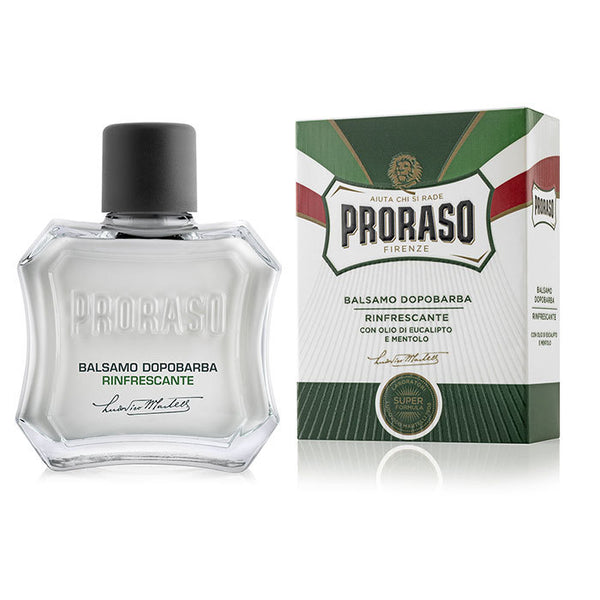 (Green Balm) Proraso Liquid Cream Aftershave - Menthol & Eucalyptus
Proraso Liquid Cream Aftershave, aka "The Green Balm" -  - NEW BOTTLE
For decades, the Proraso "green line" has dominated the Italian shaving scene. It's not uncommon for Italians to wax poetic about how all the men before them only shaved with these "miracle" creams and soaps. So why did it take Martelli so many years to realize they needed to make an aftershave balm in the "green line"? Who knows...  Italian institutions like Martelli are steeped in tradition and new products take years of thought and testing to see the light of day, they don't have much of an appetite for risk. Proraso lovers will be thankful that they did seek innovation in their" green line" because this liquid cream aftershave balm is the perfect finish to the classic Proraso shave!
Enriched with oil of Eucalyptus and menthol, this creamy balm leaves the skin toned and refreshed with the perfect balance of moisturizing effect but never leaving you greasy. A little goes a long way so be sure not to use too much; about a dime sized amount in the hand will suffice. Pour into your palm, rub your hands together and then gently apply to your freshly shaven skin. I prefer applying it to a drier face so as not to dilute it's effect.
Size: 100ml / 3.4oz glass bottle in presentation box.
Product of Italy.
*Please do not order in the winter months if you live in a cold climate(average temperatures below -5 degrees celsius) as the change in temperature will cause the bottle to break in transit.  If you decide to order, it will be at your own risk and we will not be able to issue a refund for damaged packages!
Note: This is Italian product sourced from Italy so the packaging may differ from the Proraso typically found in North America.
Proraso