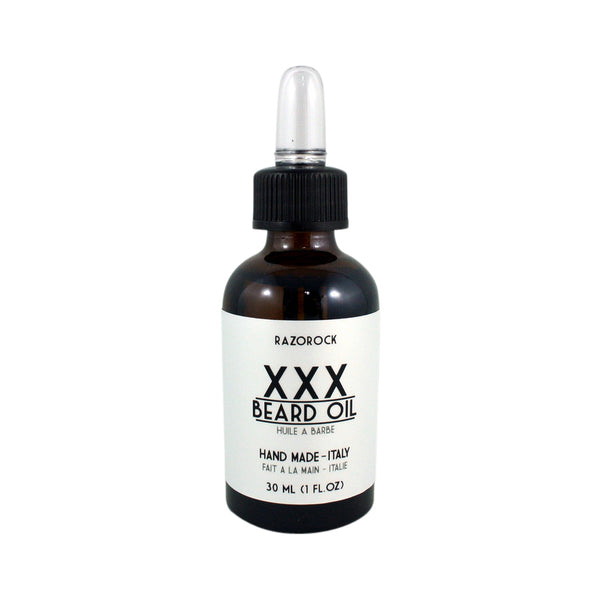 As with all RazoRock products, our goal is to combine the finest high quality ingredients and offer it at an extremely fair price. For our beard oil, we tested the best beard oils in the market. The best we could find is sold by a popular beard company in Texas, part of their gold collection, the only problem was the cost was forty dollars for 1 ounce! I don't feel it's realistic to expect the average person to spend that kind of money for 1 ounce of beard oil, but that's just my opinion. We took this oil to our lab in Italy and asked them to make it even better, and that they did! We stuck with the base of sweet almond oil, argan oil and jojoba oil but we added hemp seed oil. I won't use the term 'miracle oil' but hemp seed oil has amazing benefits for the hair and skin. It prevents water loss, thus keeping the hair moisturized for longer. The proteins in hemp seed oil also help to strengthen hair ensuring the hair grows healthier and more vibrant, preventing breakage. To top it all off, we scented our RazoRock beard oil with XXX... need I say more?
Why is beard oil important: The dreaded beard dandruff (Beardruff). If you wear a beard/goatee and the skin under it isn't properly hydrated, you will start getting beardruff which is terrible to look at and very itchy. The worst area is the chin so even if you sport a modern-day goatee, beard oil is a must!
How to use: Shake prior to use. Put a dime sized amount in your palm. Rub your palms together for 10-15 seconds to heat up the oil. Apply thoroughly throughout beard and onto skin underneath. Remember that a little oil goes a long way.
HAND MADE in ITALY
Size: 1 ounce (30 ml)
Format: Italian glass bottle with dropper
Ingredients: Sweet,Almond Oil, Argan Oil, Jojoba Seed Oil, Hemp Oil, Fragrance (Citral, Coumarin, Eugenol, Geranoil, Hydrocitronellal, Limonene, Linalool, Isoeugenol, A-Isomethylionone, Oakmoss)
RazoRock