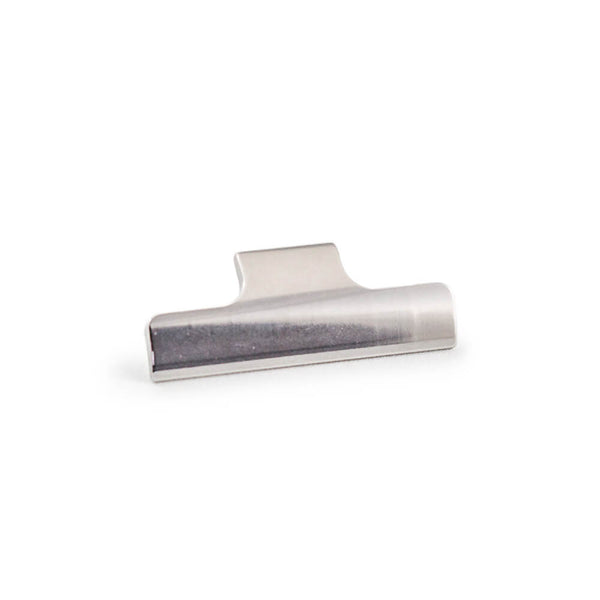 RazoRock Stainless Steel HAWK V3 Top Cap
RazoRock Stainless Steel HAWK V3 Top Cap ONLY OPTION
**NOTE: PLEASE NOTE: YOU ARE BUYING ONLY THE HAWK TOP CAP ONLY, YOU NEED TO ALREADY HAVE A BASE PLATE OR BUY A BASE PLATE TO GO WITH IT!**
If you desire to create-your-own Stainless Steel Hawk VS or you want to purchase a top cap and multiple base plates, now you can buy just the top cap separately. The top cap is standard and works for all the various RazoRock Stainless Steel Hawk V3 Single Edge Razors (Standard, A, & OC). I know this sounds redundant but you are only buying the HAWK V3  top cap ONLY with his listing, you will need to buy a base plate to go with it (or own one). You can find the base plates on the different RazoRock Stainless Steel Hawk V3 product pages for the full razors, it will be an option under the drop-down menu or on the RAZOR PARTS page.

Material: 316L Marine Grade Stainless Steel
Finish: 3 stage, 24 hour, machine vibratory finish. It's important to note that our finish is designed to de-burr and make the pieces smooth with minimum effect on machining tolerances. It's a tool-like finish and not a mirror-type high polish; each piece is unique (no two pieces will be identical). We don't believe in hand polishing our machined safety razors because it's self-defeating. We spend so much time and effort getting the tolerances tight, a hand polish will just ruin these tolerances. We would rather give you a quality tool-like finish at a great price and leave it up to you if you want to put a jewelry type polish or gun-kote at the razor later at additional cost.
Made in Canada
RazoRock