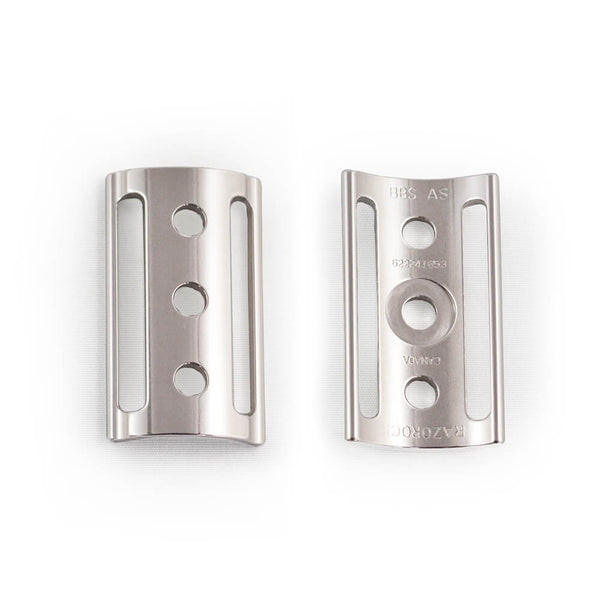 RazoRock Stainless Steel BBS "AS" Base Plate
RazoRock Stainless Steel BBS "AS" Base Plate ONLY OPTION
**NOTE: YOU ARE PURCHASING ONLY THE BBS "AS" BASE PLATE.  YOU WILL ONLY RECEIVE THE BASE PLATE THEREFORE YOU NEED TO ALREADY OWN A BBS TOP CAP.**
What makes the RazoRock BBS safety razor so unique and wonderful? Our testers have told us the RazoRock BBS is the smoothest shaver they've ever used! We chalk this up to two reasons. Reason number one, the geometry of the BBS head puts more bend on the double-edge (DE) blade than any other safety razor we've ever used. This increased bend puts more torque on the DE blade making the blade edge more firm and rigid. All good razor designers know the secret to a smooth, irritation-free shave is a super thin and sharp blade that is held as rigid as possible! Reason number two, because of the geometry of the head, the shaving angle is decreased from the typical 45 degrees (angle of handle-to-face) to roughly 35 degrees for the RazoRock BBS. This allows the shaving angle to work better with gravity and the weight of the handle to guide the head more freely and intuitively across your skin.
Who doesn't love a little optionality in their life!? As great of a shaver as the standard RazoRock BBS is, we often get asked by customers if we can push the design even further, so now we offer three additional base plates that each provide unique shaving characteristics. If you already own a RazoRock BBS, you can simply purchase one of the new base plates and it will be interchangeable with the top cap you already have. The RazoRock BBS top cap is universal.
Available in 4 Options:
Standard - Mild-Medium Aggression on our Razor Scale
OC - Open Comb - Mild-Medium(Slightly More than the Standard) Aggression on our Razor Scale
A - Aggressive - Medium Aggression on our Razor Scale
AS - Aggressive Step - Medium-Aggressive Aggression on our Razor Scale
AS - Aggressive Step - Medium-Aggressive Aggression on our Razor Scale -The RazoRock BBS "AS" is a special base plate that was prototyped for one of our owners. The "AS" stands for "Aggressive Step." This is a large gap version of the RazoRock BBS designed to handle long beard growth while providing a more aggressive shave. Don't be fearful though, keeping with the BBS tradition the shave is still ultra smooth and the base has been designed in such a way to offer the shaver the best of both worlds.

Blade Exposure: Positive

Material: 316L Marine Grade Stainless Steel
Build: Fully CNC machined
Finish: 3 stage, 24 hour, machine vibratory finish. It's important to note that our finish is designed to de-burr and make the pieces smooth with minimum effect on machining tolerances. It's a tool-like finish and not a mirror-type high polish; each piece is unique (no two pieces will be identical). We don't believe in hand polishing our machined safety razors because it's self-defeating. We spend so much time and effort getting the tolerances tight, a hand polish will just ruin these tolerances. We would rather give you a quality tool-like finish at a great price and leave it up to you if you want to put a jewelry type polish or gun-kote at the razor later at additional cost.
Other Details: Each razor is engraved with a unique serial number.
Made in Canada
RazoRock