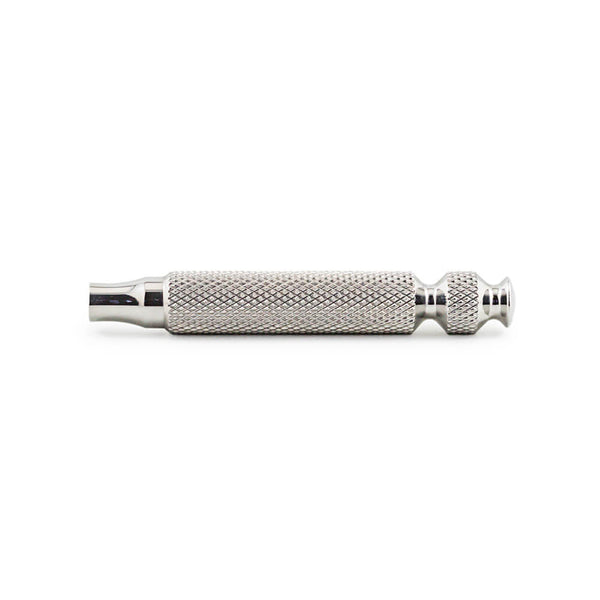 (Handle Only) RazoRock UFO Razor Handle - 316L Stainless Steel
(Handle Only) RazoRock UFO Razor Handle - 316L Stainless Steel
The very grippy, high polished, UFO razor handle from RazoRock is our newest addition to the RazoRock handle offering. As you can probably figure out, we call this handle the UFO because of its saucer-like knob near the end of the handle which gives a great tactical feeling. The handle is FULL CNC milled from marine-grade 316L stainless steel and then highly polished. The RazoRock UFO handle will work with most modern DE safety razors including the offerings from RazoRock, Merkur, Edwin Jagger, iKon, Muhle, and Parker.
Threading: M5 x .8
Material: 316L stainless steel (Marine Grade)
Grip: Deep diamond knurling
Handle Diameter: 13 mm
Handle Length: 85 mm
Weight: ~2.3 oz (65 grams)
Finish: Please note, these razors are tools, not jewels. We use a vibratory tumbling finish process which maintains the highest possible tolerances for the razors. This means the razors will not be mirror finished and will not be mark-free. The razors may have some milling marks or finishing marks. The razors can always be jewelry polished by the client later but our goal is to sell the razor at the best possible tolerances and lowest possible price. The metal-on-metal contact from the handle locking against the base-plate will create a ring mark on the base. It's common for handles to have micro dents from the tumbled finish.
RazoRock