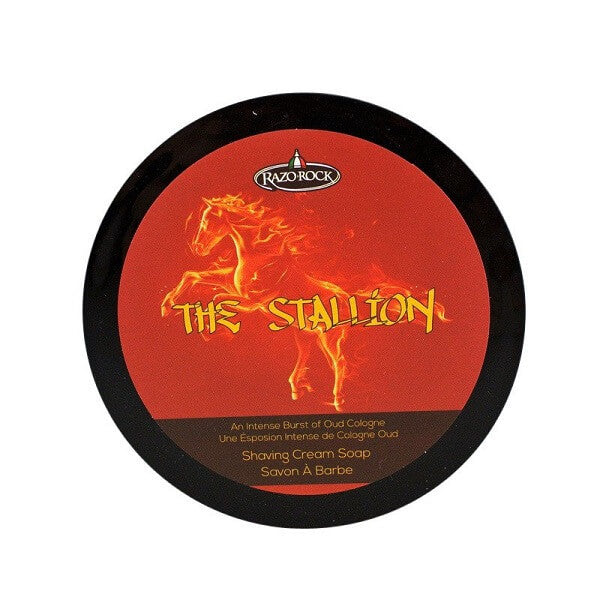 RazoRock "The Stallion" Italian Shaving Soap
RazoRock "The Stallion" Italian Shaving Soap (See note below for 2021)
This shaving soap is named for my friend Anthony Esposito, also known as "The Stallion" in the traditional wet shaving community.  There are a few reasons why I created this soap.  The lessor reason is because Anthony turned me onto Oud scents.  Before I met Anthony, I had no clue what an "Oud" was, but his 'shave of the day' pictures displaying his bottle of AdP Colonia Intensa Oud, sent (no pun intended) me searching out this fragrance.  Like Anthony, I instantly fell in love with the scent but man o man, $210 for a 3.4oz bottle ain't very affordable!
The real reason why I created this Stallion soap is because Anthony's passion, positive vibes and energy are an inspiration to me.  The guy is always going out of his way to help new wet shavers in the community, whether it be sending them generous samples of expensive product or giving them helpful straight shaving tips with his youtube videos.  The guy is successful, both personally and professionally because he understands the first rule of success… GRATITUDE!  If you don't know Anthony, watch some of this videos, in fact, watch the video below, you will quickly see what I'm talking about.
The scent of this shaving soap was inspired by AdP Oud.  Although not identical to AdP, I think it's a contender and I think you guys are going to truly love it!  For those that know Anthony, it's only fitting I end this description with a …
WOOHOO!!!
Size: 150 ml
Artisan Made in Italy.

Ingredients: Aqua(Water/Eau), Stearic Acid, Cocos Nucifera(Coconut) Oil, Tallow Acid, Potassium Hydroxide, Sodium Hydroxide, Parfum (Fragrance), Aloe Barbadensis Extract, Coumarin, Limonene, Linalool.
Tips: RazoRock Italian shaving soaps are formulated to be used with a traditional shaving brush. If you haven't used a brush before, I highly recommend one of the RazoRock Plissoft brushes, their quality and value is second to none. To use this shaving soap, simply swirl a wet shaving brush on top of the soap for 30-40 seconds, then you can either complete the lather right on your face or in a lathering bowl, add droplets of water to the lather until you reach your desired consistency. Less water will make for a thicker and pastier lather, more water will make a slicker and thinner lather. Make sure to let the soap fully dry before covering it again with the lid. If you are using the soap daily, there is no need to cover it. 
***NOTE: Some of the Allergens used in the Fragrance oil for this scent have been changed due to the new regulations in the European Union as of 2021 - As a result, the fragrance oils have been reformulated in 2021 and new batches for 2021 and later may be slightly different from previous batches.***
RazoRock