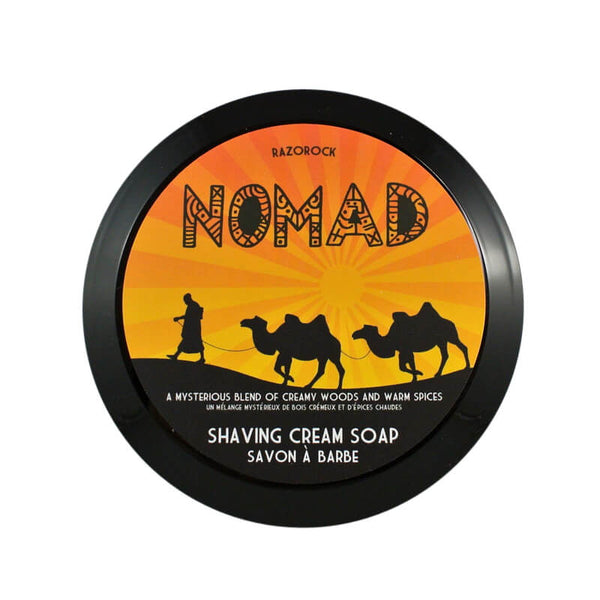 RazoRock NOMAD Shaving Cream Soap
NOMAD uses our RazoRock Super Formula enriched with Shea Butter, Argan Oil, Aloe Vera and Lanolin, for a nourishing post-shave feel and superior razor glide.
I'm one of those rare birds that actually likes going to the mall with my wife. Why you may ask? Because I get to explore the latest and greatest at the fragrance counters! A lot of the inspiration for RazoRock products comes from fragrances I can't afford to purchase; surely I can't be the only one around here WITHOUT a limitless credit card or bank account?! This brings us to NOMAD. What is it? 
One day, while strolling around a well air conditioned mall in Tampa, Florida, I stumbled into an Art of Shaving store. Low and behold, they were recently stocked with a bunch of Penhaligons fragrances and testers! Spray, sniff, spray, sniff... there were so many winners, but one scent stood out from the crowd... ZIZONIA! I was so stoked that I asked for a bunch of samples and brought them back to my business partner to sniff. Guess what? I wasn't the only one in love with this scent.
Fast forward a few years and with the aid of an expert perfumer in France, we have created a RazoRock version of Zizonia. It wasn't cheap and it wasn't fast but I hope you enjoy it as much as we do... and, it won't leave you feeling guilty.
RazoRock shaving cream soaps are best used with a traditional shaving brush; if you are new to wet shaving, be sure to check out our RazoRock Plissoft brushes, they offer incredible value and performance.
Top notes: Orange blossom, bergamot, coriander.
Heart: Lavender, nutmeg, cardamom, ginger, geranium, black pepper, cumin,
Base: Patchouli, amber, ceder, vetiver, sandalwood. 
Artisan Made in Italy
Scent: A mysterious blend of creamy woods and warm spices.
Size: 150 ml (5 fl.oz)
Ingredients: Stearic Acid, Aqua (Water/Eau), Cocos Nucifera(Coconut) Oil, Potassium Hydroxide,Sodium Hydroxide, Hydrogenated Lanolin, Butyrospermum Parkii (Shea)Butter, Fragrance(Parfum), Argania Spinosa (Argan)Oil, Aloe Barbadensis Extract(Aloe), Hexyl Cinnamal, Linalool, Citronellol, Limonene.
RazoRock