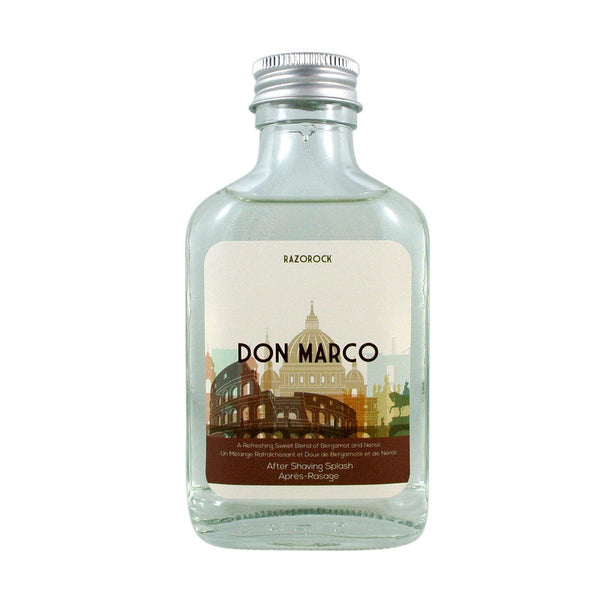 RazoRock Don Marco After Shave Splash
Don Marco shaving cream soap has been one of RazoRock's best sellers from the beginning and now it's finally back in an after shave splash. A tribute to one of our very first supporters in Rome, Italy; a man filled passion and love, who gave us the push and the support we needed to build RazoRock into a brand we are proud of. Thank you, Marco, you are a true gentleman!
Scent: An old customer once told me of a shaving soap he use to buy at a barber in Rome, it had a refreshing scent of Neroli and Bergamot and every time he used it back in the USA, it reminded him of blissful early morning summertime shaves, when he was an expat journalist living in Rome, Italy. This splash is a refreshing blend of Neroli and Bergamot, with a unique 'twang' that will put a zip in your step!
Ingredients: Alcohol Denat, Aqua (Water/Eau), Parfum(Fragrance), Polysorbate 20, Peg-40 Hydrogenated Castor Oil, Menthol, Dimethicone Copolyol, Tetrasodium EDTA, Citral, Limonene, Linalool.
Size: 100 ml (3.4 fl.oz)   
Made in Italy.
Important: We recommend you give all after shave splashes a good shake before use.
RazoRock