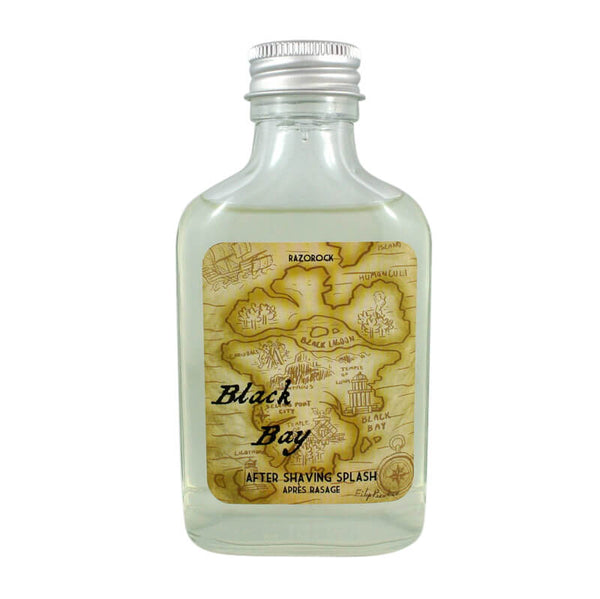 RazoRock BLACK BAY After Shaving Splash
Ever since RazoRock stopped producing the Captain's Choice Bay Rum shaving soap, we've been getting dozens of requests every month for a new bay rum product. The problem is, I'm not a fan of clove-y scents nor can my skin tolerate a lot of cinnamon in a soap or aftershave; I know, it sounds selfish but if I don't like a scent, I have a very hard time putting the RazoRock name on it.
For the last two years, we been experimenting with different bay rums and in the spring of 2017 it finally hit me, why not produce a scent that is heavy is natural bay laurel extract and very light in spice. We tested a few variations and we fell in love with this one. Natural bay laurel has a sweet scent with just a touch of spice in the backdrop. This is a bay leaf scent for guys that typically aren't fans of American style bay rums. It's one of those scents where the more you use it, the more you can't go without it.
BLACK BAY After Shaving Splash pairs perfectly with our BLACK BAY shaving cream soap, for the perfect 1-2 punch, be sure to pick up the set.
Artisan Made in Italy
Scent: A natural bay laurel scent.
Size: 100 ml (3.4 fl.oz)
Ingredients: Alcohol Denat, Aqua (Water/Eau), Parfum (Fragrance), Polysorbate 20, PEG-40 Hydrogenated Castor Oil, Menthol, Dimethicolne Copolyol, Tetrasodium EDTA, Eugenol, Limonene, Linalool.
RazoRock