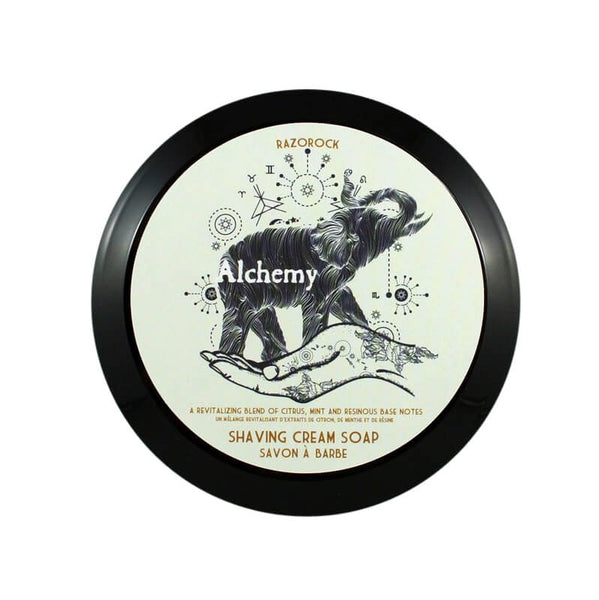 RazoRock ALCHEMY Shaving Cream Soap
ALCHEMY uses our RazoRock Super Tallow Formula enriched with Shea Butter, Argan Oil, Aloe Vera and Lanolin, for a nourishing post-shave feel and superior razor glide.
Why Alchemy? Sometimes a finished product is greater than the some of it's parts. Sometimes, ingredients are combined and transformed into something magical. With fragrance creation, you can try so hard to achieve greatness, but most often greatness is elusive, you need something more than hard work, you need some good fortune, you need some luck. With Alchemy, luck struck! All the components came together and I believe we created one of RazoRock's best products yet. I won't go on much further here, because Alchemy really needs to be experienced before it can be understood. I hope you enjoy it as much as we do!
RazoRock shaving cream soaps are best used with a traditional shaving brush; if you are new to wet shaving, be sure to check out our RazoRock Plissoft brushes, they offer incredible value and performance.
In case you are wondering about the label... Elephants represent good luck and we definitely had a stroke of it here!
Artisan Made in Italy
Scent: A revitalizing blend of citrus, mint, vetiver and resinous woody base notes
Size: 150ml (5 fl.oz)
Ingredients: Stearic Acid, Aqua (Water/Eau), Cocos Nucifera(Coconut) Oil, Potassium Hydroxide,Sodium Hydroxide, Tallow Acid, Hydrogenated Lanolin, Butyrospermum Parkii (Shea)Butter, Fragrance(Parfum), Argania Spinosa (Argan)Oil, Aloe Barbadensis Extract(Aloe), Alpha Isomethyl Ionone, Limonene, Linalool.
RazoRock