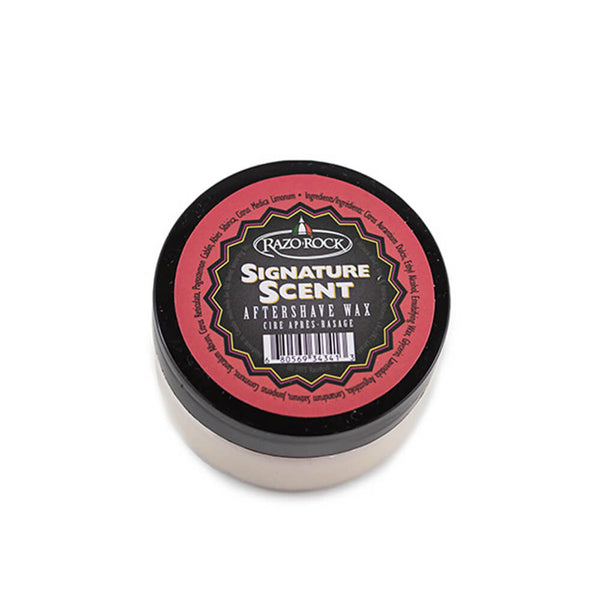 RazoRock 100% Natural Handmade Aftershave Wax - Signature Scent
RazoRock 100% Natural Handmade Aftershave Wax 60ml
RazoRock 100% Natural Aftershave Wax has been specially formulated using only the finest natural and organic raw ingredients. Being the proprietor of a wet-shaving store, I have tested my fair share of aftershave products and this product was designed with the intention of making "the perfect aftershave." In my experience, aftershaves are the most difficult products in the shaving universe 'to get right' because great aftershaves perform many different polarizing functions, all at the same time. We want them to restore moisture, to be an antiseptic, to heal and sooth, to tone the skin and to smell wonderful but they must perform all these duties in perfect balance and harmony without one function dominating the equation. How many times have you used an aftershave that smelled wonderful but was overly drying? Provided moisture but left your skin oily and greasy? Toned your skin but left it feeling overly tight and inelastic? Achieving the balance is no easy task and to raise the stakes even higher I wanted the product to be hand made with only the highest quality organic raw ingredients.

With RazoRock 100% Natural Aftershave Wax, we believe we have found the perfect balance. We are presenting you with a product we personally love to use; we hope you feel the same way! Our product is hand made in Canada using only 100% organic and natural raw ingredients.  It is made using the cold-process method which means 95% of the 'goodness' in the ingredients has been maintained; after only a few applications, you will understand what we are talking about!

How to use RazoRock 100% Natural Aftershave Wax...

Simply dab some cream on your finger and gently massage into your freshly shaved face; a little goes a long way.
Ingredients: Orange Blossom Water, Grain Alcohol, Emulsifying Wax, Vegetable Glycerin, Essential Oils of Lavender, of Coriander, of Juniper, of Sandalwood, of Tangerine, of Patchouli, of Fir Needle and of Lemon.
Handmade in Canada
Size: 60ml
RazoRock