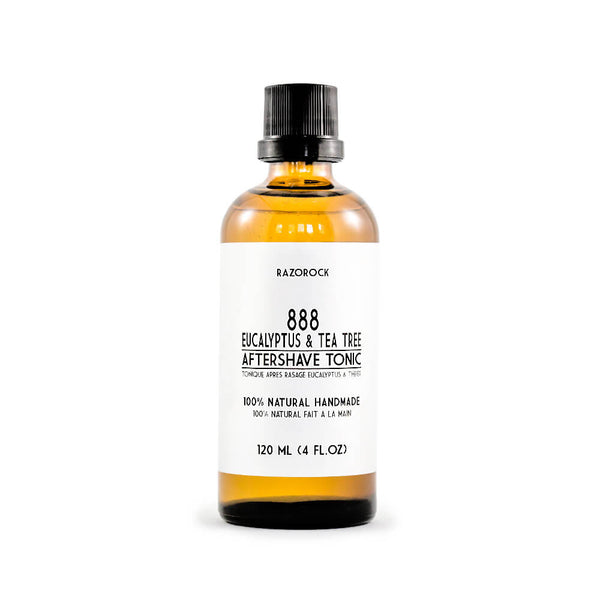 RazoRock 888 Eucalyptus And Tea Tree Aftershave Tonic
RazoRock 888 Eucalyptus And Tea Tree Aftershave Tonic
Our goal with our aftershave tonic was simple; to create the most healing aftershave product in the world using only the finest natural ingredients, and to sell the product at an affordable price-point. The only problem was... how would we do this? We are lucky because we have a wonderful relationship with one of the best skin care product chemists in North America and she agreed to help us out on this project. This was no easy task, even with her help it took almost seven months (and dozens of attempts) to finally get the formula right. We are extremely proud of the results and we are certain you will love this RazoRock aftershave tonic!

No expense was spared in the formulation. Only true hydrosols were used and organic ingredients were sourced where possible. Don't let the alcohol in the ingredient list scare you, we sourced the finest grain alcohol available and kept the proportion under 15%. Contrary to what most mainstream information will tell you, alcohol is not drying and has great benefits (if the right grade is used), and used properly in an aftershave formulation, our testing has really proved this to me and I'm sure after you use this product you will agree.

We are happy to offer this aftershave is a classic brown glass apothecary bottle. Since the product is 100% natural, it's best to store the bottle away from direct sunlight, in a cool and dry place; but, if you can't, the brown glass will help protect the lotion from the light. No emulsifiers or mixing agent were used in the formula so you must give the bottle a good shake before each use. The lotion comes in three formulas, a Eucalyptus and Tea Tree, Essential Oil of Lime, a Lavender Oil formula.
Pro Tip: Try storing the tonic in the fridge during the summer months for an extra refreshing post shave feel!
Ingredients: Orange Blossom Water, Witch Hazel Water, Grain Alcohol, Menthol, Aloe Vera, Jojoba, Olive Oil, Essential Oils (Eucalyptus, Tea Tree)
Size: 120ml (4oz) Glass Bottle with reducer
Made in Canada
Important: Shake Well before Each Use!

RazoRock