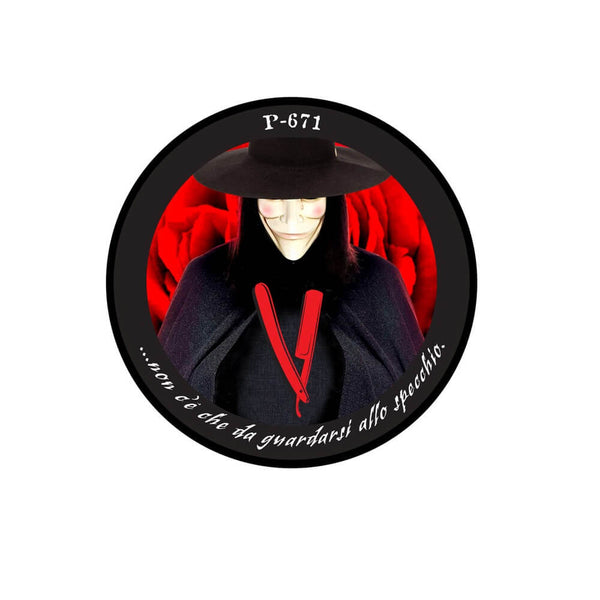 Tcheon Fung Sing "V" P-671 Shaving Soap
Tcheon Fung Sing "V" P-671 Shaving Soap
This special soap made by TFS was produced by slowing down the saponification phase by lowering the temperature of the oils and increasing the times of the mixes. By doing so, a more protective soap has been obtained which is more able to better convey the benefits of the base ingredients it is made of including:

Rosehip oil: Musky rose is a vegetable oil obtained by cold pressing the seeds contained in the berries of the plant. It is very famous in natural cosmetics and phytotherapy and has now become one of the main remedies for the care of damaged skin, thanks to its effective regenerating and healing action on skin tissues.

Biancofiore castor oil: Obtained from the cold pressing of the seeds, it is a very thick and filming oil, saponified with refined coconut oil creates a protective and moisturizing barrier.

Calamine: An active ingredient that has various properties, among which its protective, antiseptic, soothing and anti-itch action on healthy or damaged skin stand out.
Scent: The fragrance which has undertones of rose and calamine is a harmony in which it is difficult to recognize the individual notes.  TFS has played with unexpected contrasts to obtain a provocative, intense and indiscreet result.
Size: 150ml (5.0 oz)
Ingredients: Aqua (Water) Stearic Acid, Cocos Nucifera Oil, Castor Oil, Parfum (Fragrance), Potassium Hydroxide, Rosa Moschada Seed Oil, Calamine, Sodium Hydroxide, Linalool, Limonene, Alpha Isomethyl Ionone, Coumarin
Artisan Made in Italy
About Tcheon Fung Sing:

This name which is so difficult to pronounce is the name of the founder, a brave man, who was born in China and arrived in Italy in 1930. During the war he was interned in a prisoner-of-war camp and after World War II he married an Italian woman. With his wife, he decided to found this company and using his knowledge in the field of soapmaking, he began to produce shaving soaps.
On October 7,1951, Tcheon Fung Sing won the Gold Medal for shaving products during the first Turin fair. The shaving soap production continued through the decades and was handed down through three generations. The first one to carry on this business was Tcheon Fung Sing's daughter, Gabriella Tcheon, and now his grand-daughter, Paola Barile runs the operation.  It is quite incredible that two women continued innovating and producing a very masculine product: shaving soap! From the origins to now, T.F.S. has respected the ancient knowledge of the founder, using original formulas and producing shaving soaps using only vegetable based raw materials. The duration of those soaps, produced without preservatives, is guaranteed by the handmade production. Tcheon Fung Sing continues to innovate under the leadership of the expert and skilled soapmaker, Paola Barile, who is taking the company forward into the future by constantly innovating and creating new products.
Tcheon Fung Sing TFS