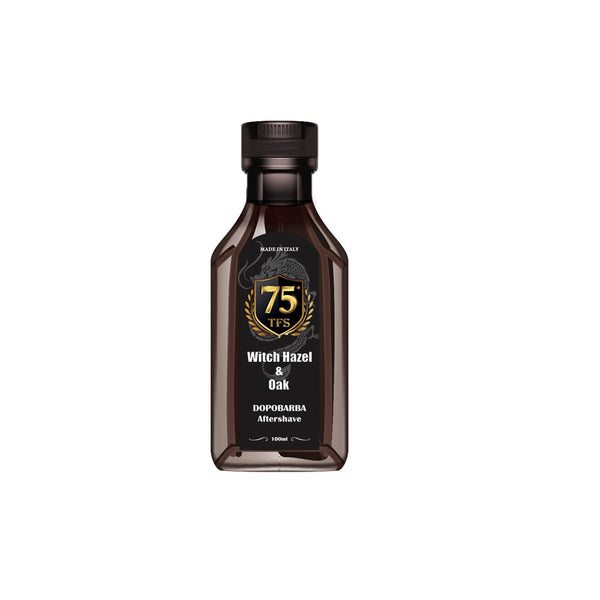 Tcheon Fung Sing 75th Anniversary Witch Hazel & Oak Aftershave Splash
Tcheon Fung Sing 75th Anniversary Witch Hazel & Oak Aftershave Spash
Tcheon Fung Sing has recently developed 75th Anniversary Witch Hazel & Oak. This artisan made luxurious aftershave splash was built around witch hazel and warm oak. There is a matching shave soap which pairs perfectly to the Aftershave Splash.
Scent: The fragrance is Ozonic(aquatic or oceanic) and Balsamic, it warms to Oak, Hawthorn, cyclamen with lingering Violet , sandalwood, patchouli, cloves and musk.
Size: 100ml (3.4 oz) Glass Bottle75th Anniversary Witch Hazel & Oak
Ingredients: Alcohol Denat. Hamamelis Virginiana (Witch Azel) Leaf Water, Parfum (Fragrance), Polysorbate 20, PEG-40 Hydrogenated Castor Oil, Menthol, Dimethicone Copolyol, Tetrasodium EDTA, Alpha-Hexylcinnamaldehyde, Linalool, Geraniol
Artisan Made in Italy
About Tcheon Fung Sing:

This name which is so difficult to pronounce is the name of the founder, a brave man, who was born in China and arrived in Italy in 1930. During the war he was interned in a prisoner-of-war camp and after World War II he married an Italian woman. With his wife, he decided to found this company and using his knowledge in the field of soapmaking, he began to produce shaving soaps.
On October 7,1951, Tcheon Fung Sing won the Gold Medal for shaving products during the first Turin fair. The shaving soap production continued through the decades and was handed down through three generations. The first one to carry on this business was Tcheon Fung Sing's daughter, Gabriella Tcheon, and now his grand-daughter, Paola Barile runs the operation.  It is quite incredible that two women continued innovating and producing a very masculine product: shaving soap! From the origins to now, T.F.S. has respected the ancient knowledge of the founder, using original formulas and producing shaving soaps using only vegetable based raw materials. The duration of those soaps, produced without preservatives, is guaranteed by the handmade production. Tcheon Fung Sing continues to innovate under the leadership of the expert and skilled soapmaker, Paola Barile, who is taking the company forward into the future by constantly innovating and creating new products.
Tcheon Fung Sing TFS