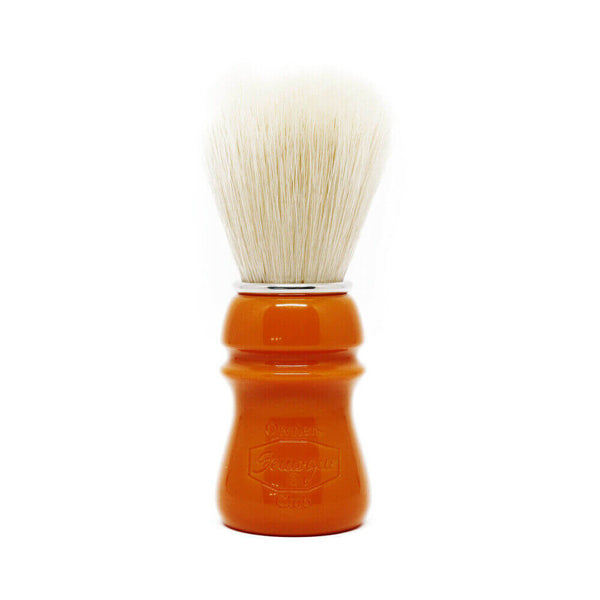 Semogue Owner's Club Premium Boar Shaving Brush - Butterscotch
Semogue Owner's Club Premium Boar Shaving Brush -  Butterscotch
In late 2009, a special edition brush was made by Semogue having the best boar bristles possible stuffed densely into a luxurious wooden handle. Only 100 of these successful brushes were made and quickly sold.

The Semogue Owners Club, an internet community present in Facebook, DamnFineShave and ForoAfeitado.es devoted to the wonderful Semogue brushes and part of the Limited Edition boar brush project think tank, asked me to make a production brush based on the now famous 2009 Limited Edition boar brush since there were so many people who missed the chance to own a LE brush. This fine brush has the best boar bristles available, carefully selected to provide the ultimate shaving experience. This is arguably the best production boar brush ever made.
The Butterscotch version of these brushes is the newest addition to the line.
Semogue is a family operated business with a tradition of brush-making passed on from father to son for generations. The brush master is at the head of the business and ensures that the highest standards are upheld in the brush-making process. 
Hair Grade: Top Premium Boar
Handle Material: Resin
Knot: 24mm
Loft: 55mm
Overall height: 114mm
Made in Portugal
Note: Natural animal bristle brushes will have a slight odor when new; this odor will disappear after after a dozen or so uses. Also, boar brushes need about 15-20 uses to 'break-in', you will notice a huge improvement after a month of daily use.
Semogue