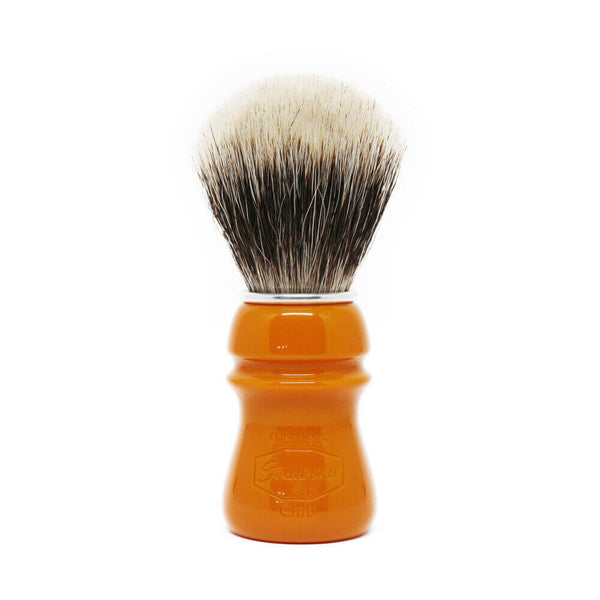 Semogue Owner's Club Finest Badger Shaving Brush - Butterscotch
Semogue Owner's Club Finest Badger Shaving Brush - Butterscotch
This new Semogue Owners Club shaving brush version has a robust and ergonomic Taj Resin sculpted handle combined to the outstanding Semogue Two Band Badger.
This brush is the first Semogue that is stuffed with the very exclusive 2 band Finest badger hair. This rare hair comes from the North of China from the badger species "Meles Meles" also known as European Badger or Eurasian Badger. It provides great backbone and very soft white tips which makes this brush great for either soaps or creams.

After the great success of the 2010 Limited Edition brush, this Semogue 2 band sets another milestone that Semogue achieves in the exquisite badger brush market.

This fine brush is totally made by hand from start to finish. The handle is hand turned by a skilled woodsman and later is hand sanded one by one. Then, the knot is made by the master craftsman using the traditional methods passed by past generations to provide the most wonderful brush.

The knot has a 24 mm diameter and 53 mm height. The handle is 59 mm tall and has 37 mm in its widest point. The beautiful handle is made of resin.  The Butterscotch version of these brushes is the newest addition to the line.
Hair Grade: 2-Band Finest Badger
Handle Material: Resin
Knot: 24mm
Loft: 53mm
Made in Portugal
Note: Natural animal bristle brushes will have a slight odor when new; this odor will disappear after after a dozen or so uses. Also, boar brushes need about 15-20 uses to 'break-in', you will notice a huge improvement after a month of daily use.
Semogue