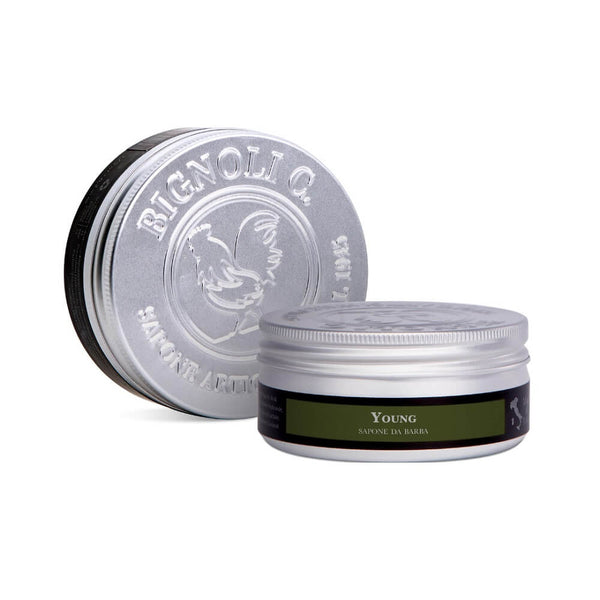 Saponificio Bignoli Shaving Cream - Young
Established in 1945, Saponificio Bignoli is a family soapery which has been handed down through two generations of artisan soap makers. There is no education better than years of experience passed on through a family, this is why the Bignoli family is recognized as one of the highest quality soap producers in northern Italy. Their family soapery is located in Galliate, in the province of Novara, just west of Milan. The Bignoli family has the experience, tradition and passion that can only be gained through decades of hard work, this shines through in every product they stamp with their family logo.
We are very excited to offer these shaving creams at Italian Barber. As most passionate wet shavers know, there is a huge offering of artisan shaving soaps in the market but very few artisan shaving creams. The Bignoli family has leveraged their experience and knowledge to produce a shaving cream that is luxurious and high quality and I believe you'll have a difficult time finding a better performing cream in the market. The cream is offered in 5 different scents and one version that is fragrance free. Bignoli shaving cream comes packaged in a custom made Italian aluminum jar with the family logo embossed into the top, very classy!
Saponificio Bignoli shaving cream is best used with a traditional shaving brush. If you have no used a shaving brush before, I highly recommend the RazoRock Plissoft line of shaving brushes, they offer the highest value on the market.
Scent: Modern Italian Cologne - Fresh, Spicy, Lavander and Amber
Size/Weight: 175 grams
MADE IN ITALY
Ingredients: Aqua (Water), Stearic Acid, Myristic Acid, Potassium Hydroxide, Coconut Acid, Triethanolamine, Sodium Hydroxide, Parfum (Fragrance), Glycerin, Oryza Sativa (Bran Oil), Myristyl Lactate, Sodium Phytate, Citronellol, Coumarin, Linalool
Saponificio Bignoli