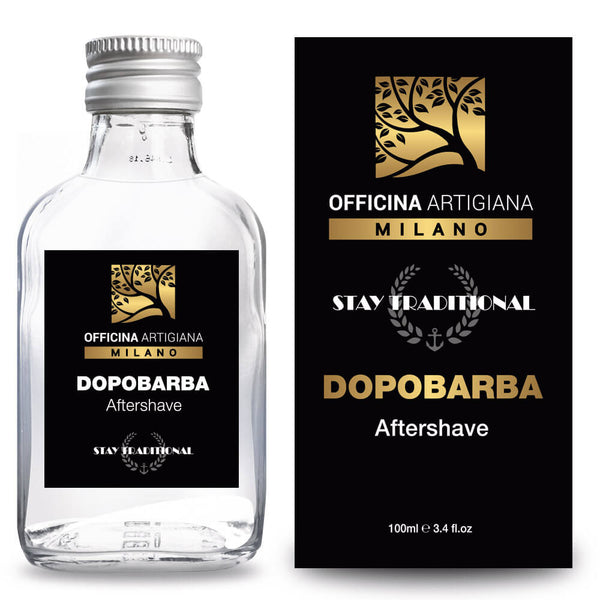 Officina Artigiana Milano Stay Traditional Aftershave Splash
Officina Artigiana Milano Stay Traditional Aftershave Splash
Officina Artigiana Milano Stay Traditional aftershave produced is made up of 80% alcohol.  Normally aftershaves contain from 60 to 70% alcohol but in the case of Officina Artigiana, due to the high concentration of fragrance contained, it was necessary to raise it in order to correctly solubilize the essential oils in purity.  Officina Artigiana aftershave contains 15% fragrance (compared to 4% commonly used).
Scent: The fragrance chosen for the Officina Artigiana Stay Traditional shaving line is citrusy, with predominant notes of grapefruit softened by lemon peel on a bed of peach and wild strawberries. The central notes are ozonic and saline that close by dancing on a base of white musk.
Ingredients: Alcohol Denat, Aqua (Water), Parfum (Fragrance), Polysorbate 20, PEG-40 Hydrogenated Castor Oil, Menthol, Dimethicone Copolyol, Tetrasodium EDTA, Linalool
Size: 100ml (3.4 fl.oz.)
100% Artisan Made In Italy
Take a look at the whole Officina Artigiana Milano Collection HERE
Officina Artigiana Milano Brand History:
An Italian Artisan Workshop company dedicated to the research and development of cosmetic products.  Its corporate mission is to offer its customers only selected and certified products of the best quality, able to meet the highest standards. Each product marketed by Officina Artigiana Milano is developed using only pure and certified ingredients from the typical areas and bottled in Italy by our artisan laboratories after a painstaking and further verification of the quality of the raw materials.
Officina Artigiana Milano