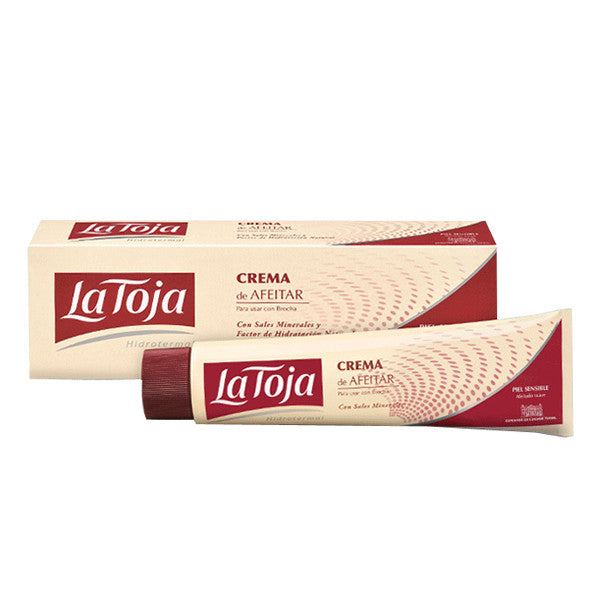 La Toja Shaving Cream 150ml Tube, Sensitive Skin
La Toja Shaving Cream 150ml Tube, Sensitive Skin
La Toja shaving cream formula for sensitive skin contains Mineral Salts, caring ingredients and vitamins to provide you with essential care for sensitive skin.
Located in the north-west corner of Spain, Isla de La Toja, or The Island of La Toja is the most famous island of Galicia due to being a thermal center.  The island is characterised by it's sludge thermal hot springs and since being rediscovered in the 19th century it has been revered by the Spanish for it's thermal mud and medicinal waters.  The island has since been mildly commercialized with modern wellness spas and resorts, as well as factories for soaps and cosmetics.  At ITALIAN BARBER, we bring you from Spain the famous La Toja personal care products.  All the products in the range are distinguished by the use of water and mineral salts coming from the hot springs of La Toja, which many believe are beneficial for sensitive skin, as well as being reputed for their curing and healing properties.
Ingredients: Aqua, Potassium Palmitate, Potassium Stearate, Glycerin, Potassium Cocoate, Sodium Palmitate, Sodium Stearate, Sodium Cocoate, Sodium Lactate, Palmitic Acid, Stearic Acid, Parfum, Sodium Lauryl Sulfate, Sodium Myristyl Sulfate, Sodium Cetyl Sulfate, Sodium Stearyl Sulfate, Laureth-10, Mineral Salts, Sodium PCA, Sodium Sulfate, Sodium Chloride

Tube: 150 ml

Made in Spain.
La Toja