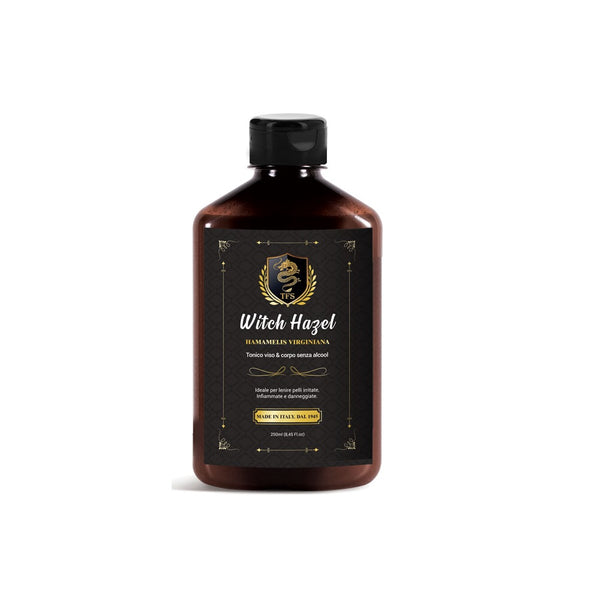 TFS Pure Witch Hazel Distillate Alcohol-Free Toner
TFS Pure Witch Hazel Distillate Alcohol-Free Toner
TFS Witch Hazel is a pure distillate of the Witch Hazel plant (Hamamelis virginiana). This lotion (naturally alcohol-free) is a real "cure-all" for the skin and is used in many ways thanks to its complex and strong properties, including anti-inflammatory ones.
Witch Hazel pure Witch Hazel distillate is in a liquid state very similar to water, with an extremely light and delicate scent. Below are some of its intrinsic properties:

Reduction of skin irritation: Topical application on sensitive skin can be very useful in treating inflamed, irritated and damaged skin. Furthermore, thanks to the rich presence of tannins, it has powerful antioxidant properties that can help protect the skin from damage, if applied topically.

Toner & Face make-up remover: Just put it on a cotton swab or cloth and proceed with the makeup removal! the continuous use of witch hazel balances the oils and dryness of the skin.

Scalp care: Scalp sensitivity can be caused by a number of factors ranging from cosmetic hair treatments to dermatological conditions, such as psoriasis and seborrheic dermatitis.  Applying witch hazel to the scalp before washing the hair helps treat the sensitivity of the scalp and provide relief from symptoms, such as itching.
It can also be used as a natural remedy to relieve symptoms of other scalp problems, such as dandruff and dryness.

Contrast of Acne: Thanks to its powerful anti-inflammatory properties, it is useful in the treatment of acne. Applied to the face after steam cleansing, it acts as an astringent causing tissue contraction, calming the skin and relieving inflammation.

Treatment of Hemorrhoids: Hemorrhoids are caused by swelling and inflammation of the veins in the rectum and anus, resulting in itching and possible bleeding.
Applied on the affected area it helps to cure the problem and thanks to its haemostatic properties it reduces bleeding when present.
Size: 250 ml
Ingredients: Hamamelis Virginiana Leaf Water
Artisan Made by TFS in Italy
Tcheon Fung Sing TFS