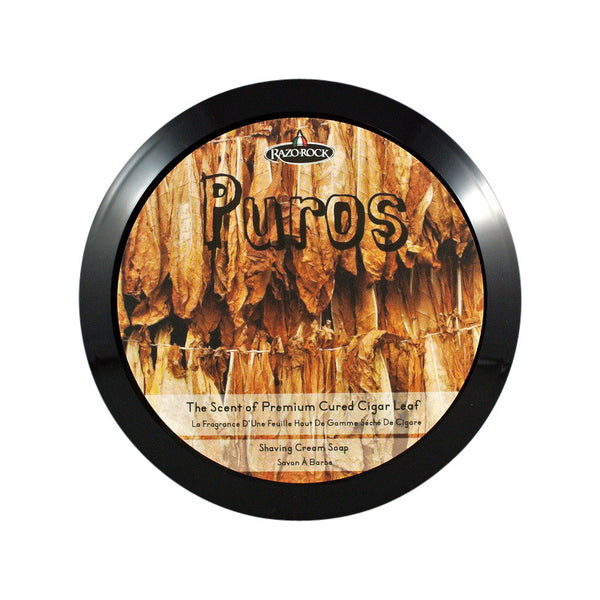 RazoRock Puros Shaving Cream Soap
In late 2014, we found two wonderful tobacco fragrance oils. We couldn't decide which fragrance to use so we had a RazoRock "Tobacco Challenge". We wanted our loyal RazoRock clients to decide which fragrance they preferred. After a few months of emails, it was clear which fragrance was the resounding winner and now this fragrance is the signature scent of our RazoRock Puros Shaving Cream Soap.  The scent is carefully mixed into our popular RazoRock tallow soap base, which is all natural and hand made using an ancient Italian soap making recipe that's been passed on through four generations.
The core notes to this scent are tobacco, musk, leather, vanilla, tonka bean and a little hay in the background. If you are a fan of musky tobacco scents, I think you'll love this one.
Size: 150 ml / 5 FL oz
Product of Italy

Ingredients: Aqua, Stearic Acid, Coconut Oil, Potassium Hydroxide, Tallow Acid, Sodium Hydroxide, Parfum
Tips: RazoRock Italian shaving soaps are formulated to be used with a traditional shaving brush. If you haven't used a brush before, I highly recommend one of the RazoRock Plissoft brushes, their quality and value is second to none. To use this shaving soap, simply swirl a wet shaving brush on top of the soap for 30-40 seconds, then you can either complete the lather right on your face or in a lathering bowl, add droplets of water to the lather until you reach your desired consistency. Less water will make for a thicker and pastier lather, more water will make a slicker and thinner lather. Make sure to let the soap fully dry before covering it again with the lid. If you are using the soap daily, there is no need to cover it.
RazoRock