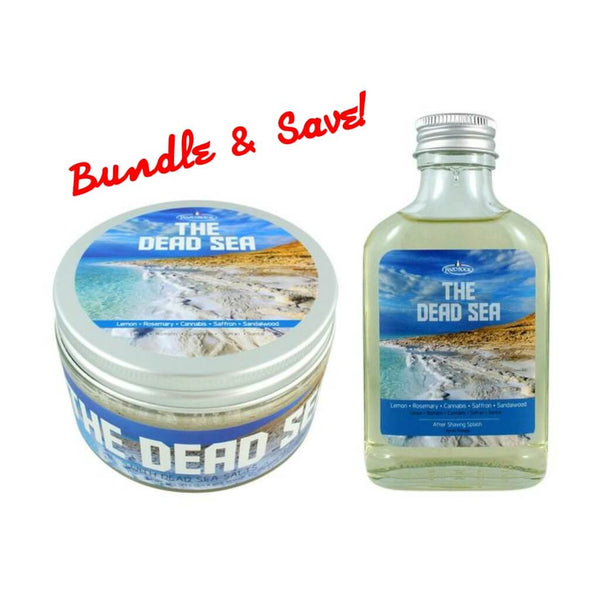 RazoRock DEAD SEA Bundle Pack
The Doublemint sisters aren't the only ones offering double the pleasure and double the fun! With RazoRock, the name of the game is high quality, affordable prices, so we created these bundle packs to save you even more dollars. RazoRock products are a bargoon to begin with but let's face it, who doesn't like an even better deal!? Everyone I know works really hard for their money, you should demand great value from everything you buy!
You get a full-size shaving cream soap and full-size after shave splash, and you save $4.00, It's a no-brainer!
Shaving Cream Soap:
This soap has been a dream of my uncle for the last two years. Since discovering and using other skin care products that contained Dead Sea Salt, the idea of a luxury shaving soap using this ingredient has been brewing inside his mind. A lot of formulating and testing was required but the finished product is truly something special and a shaving soap both of us are very proud of. The scent of THE DEAD SEA is very unique, containing two oils not typically used in scent building, golden cannabis oil and saffron. I can guarantee you've never smelt a soap quite like this one. On top of the wonderful skin care properties of Dead Sea salt, we have added both lanolin and aloe vera extract for a perfect post-shave feel. A shaving soap of this quality wouldn't be complete unless packaged in an Italian heavy glass jar with an aluminum top. RazoRock THE DEAD SEA is not just another shaving soap, it's a traditional wet shaving experience you won't soon forget!
Scent Notes: Lemon, Rosemary, Cannabis, Saffron, Sandalwood
Size: 250 ml
Artisan Made in Italy.
Ingredients: Aqua(Water/Eau), Stearic Acid, Cocos Nucifera(Coconut) Oil, Potassium Hydroxide, Sodium Hydroxide, Myristic Acid, Fragrance(Parfum), Lanolin, Maris Sal(Dead Sea Salt), Aloe Barbadensis(Aloe Vera) Extract, Citronellol, Eugenol, Geraniol, Linalool.
After Shave Splash:
The scent of THE DEAD SEA shaving cream soap was so well received by our loyal RazoRock clients that we were asked repeatedly to make a matching after shave splash. Here it is folks! You can now indulge further into that wonderful refreshing scent after the shave or simply when you need a pick-me-up. Enjoy!
Scent Notes: Lemon, Rosemary, Cannabis, Saffron, Sandalwood
Size: 100 ml (3.4 fl.oz)
Artisan Made in Italy.
Ingredients: ALCOHOL DENAT., AQUA (WATER), PARFUM (FRAGRANCE), POLYSORBATE 20, PEG-40 HYDROGENATED CASTOR OIL, MENTHOL, TETRASODIUM  EDTA, CITRONELLOL, EUGENOL, GERANIOL, LINALOOL.
RazoRock