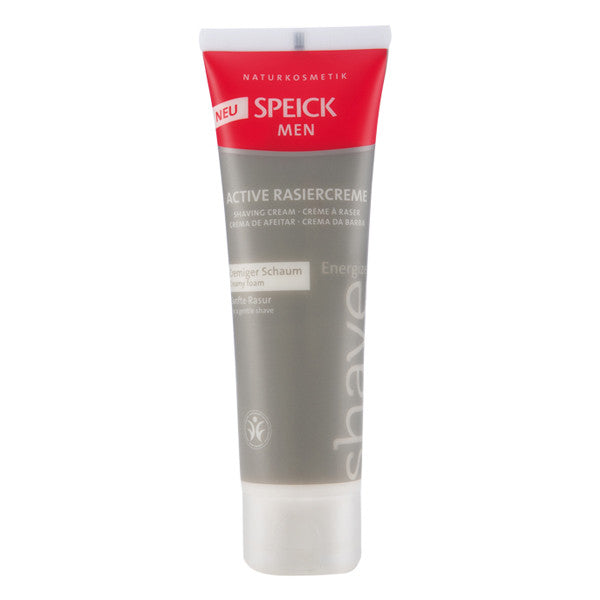 Speick Men Active Shaving Cream
Speick Men Active Shaving Cream (Certified Natural Cosmetics, BDIH) 
Naturally creamy foam – For a gentle shave 
Relaxes the skin for a closer shave. Made of real soap with soothing, organic reed extract and additional plant-based ingredients, this shaving cream lathers wonderfully, allowing the razor blade to glide smoothly over the skin. Each Speick product contains the harmonising extract of the high alpine Speick plant from biologically regulated wild harvesting (kbW). 
100% free from synthetic fragrances and colours, preservatives, silicones, parabens and mineral oil-based ingredients. Vegan. Dermatologically and allergologically tested. Contains organic reed extract. 
Application: Wet the face and shaving brush, dot the shaving cream onto the skin and use the brush to work it into a creamy lather. The shaving cream solidifies at temperatures above 30°C. Simply cool for a short period to restore its fluidity without any loss of quality. 
Ingredients: Aqua, Potassium Stearate, Potassium Palmitate, Potassium Cocoate, Glycerin, Sodium Stearate, Sodium Palmitate, Sodium Cocoate, Potassium Myristate, Cetyl Palmitate, Beta Vulgaris (Beet) Root Extract, Hydrolyzed Corn Starch 
Made in Germany
Size: 2.5 oz / 75ml tube
Speick