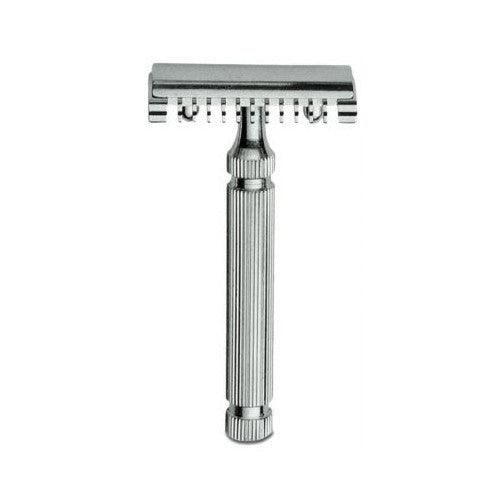 Fatip Piccolo Double Edge Safety Razor
Fatip Piccolo Double Edge Safety Razor
The Fatip Piccolo Safety Razor is a beautifully finished 3 piece razor, which features piped detailing running down the length of the handle to the base. Although a more compact razor than the grande it is actually a heavier weight razor with the weight still evenly distributed along its length, achieving a well-balanced easy to use razor. The open comb head ensures that the razor will work well with differing lengths of beard growth. Finished in Polished Nickel. A fabulous looking razor and a popular favorite amongst shaving aficionados. 
The production of the razor today known as FATIP began in Milan in the 1950's. Due to financial problems, the original manufacturer was bought out by an artisan scissor manufacturer. They took over the machinery and materials and continued the production for a few years then suspended it. It was only in the 1980's, with innovative equipment and processes, that manufacturing started again and the FATIP brand was re-launched from the original designs. The quality & performance of the product was greatly improved, while maintaining the distinctive characteristics of the razor. Today Fatip is renowned and loved the world over for its style, handling and precision which combine with ease of use and inherent safety. It has been stated that Fatip is an excellent example of the "Made in Italy" brand and an ambassador of the "Art of Shaving" throughout the world. 
All the Fatip Double Edge (DE) Safety Razors have the characteristic "open comb" head that made these products so special and famous all around the world. 
How to Use: The FATIP Razor head is released by unscrewing the handle and lifting the cover to insert the blade. Slot the head cover back in place, screw and tighten the handle ensuring that the blade is in place and you're ready to go - Simple! 
Recommended for All types of skin and especially those looking for a very close shave.
Weight: 70g 
Finish: Nickel Plated
Dimensions:
Overall Length 80mm 
Handle Length 71mm 
Head Width 42mm
Made in Italy
Material: Brass
Fatip