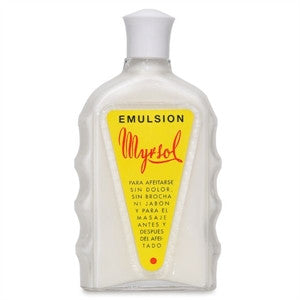 Myrsol Preshave and Aftershave Emulsion
Myrsol Preshave and Aftershave Emulsion
Myrsol pre and post shave emulsion prepares and protects the skin before shaving. It moisturizes and tones the skin and it also soothes and refreshes after shaving.  This Myrsol emulsion is alcohol free and it has a light, fresh scent.

Ingredients: Aqua, stearic acid, triethanolamine, lanolin, glycerin, sodium, methylparaben, menthol and parfum.
Size: 180 ml Glass Bottle

Product of Spain. 
Myrsol